Red tours on the rise as nostalgic retirees look to Russia
Trips appeal to those in their 60s and 70s who grew up during the time of the former Soviet Union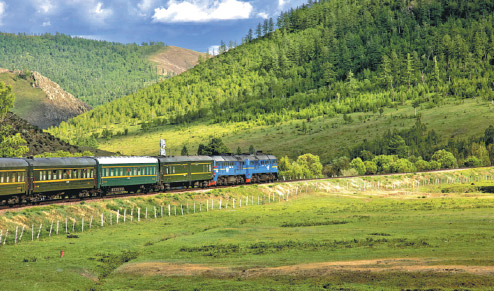 The Trans-Siberian Railway, with a total length of 9,288 kilometers, offers Chinese tourists an alternative way to travel around Russia. [Photo by YAN HAO/CHINA DAILY]
Russia-bound "red tours" are booming as China's retirees go in search of the music and culture of their youth.
Red tours-which visit sites associated with early communist activities-are growing in popularity as the two nations work together to foster tourism cooperation.
A 15-day train journey around Russia, a key participant in the Belt and Road Initiative, will be launched in mid-September.
The journey, which will focus on cultural exchange, will allow 50 tourists to travel roughly 7,800 kilometers on the Trans-Siberian Railway starting on Sept 16.
Tourists, each paying about 30,000 yuan ($4,460), will fly from Shanghai and Beijing to Russia's Irkutsk, and board a train that will stop at five cities-Krasnoyarsk, Yekaterinburg, Vladimir, St. Petersburg and Moscow-along the route, according to the organizer, the Shanghai Railway International Travel (Group) Company owned by the Shanghai Railway Bureau.
"To travel on a railway route with a history of more than a century will make the journey unusual," said Shen Yugang, a business development manager at the company.
University professors, librarians and graduates from local seminaries who are fluent in Chinese will be invited to serve as tour guides in different cities to enable tourists to learn about the local history and culture of each destination.
In July, an initial trial run of the tour attracted 34 tourists. If the response to the first two trips is positive, the tour could become a permanent fixture, the company said.
The tour is just one of several Russia-bound red tour products launched in China this year, to cater to those who grew up during the era of the former Soviet Union.
Besides the regular Russia-bound tours, more than 1,000 people from Yan'an, in Shaanxi province, and Changsha, in Hunan province, set out for Russia in a convoy in July.
Since 2015, tourism agencies from China and Russia have been conducting red tours in a tourism exchange program. As a result, the number of Chinese tourists traveling to Russia has jumped.