Students to get bigger dose of literature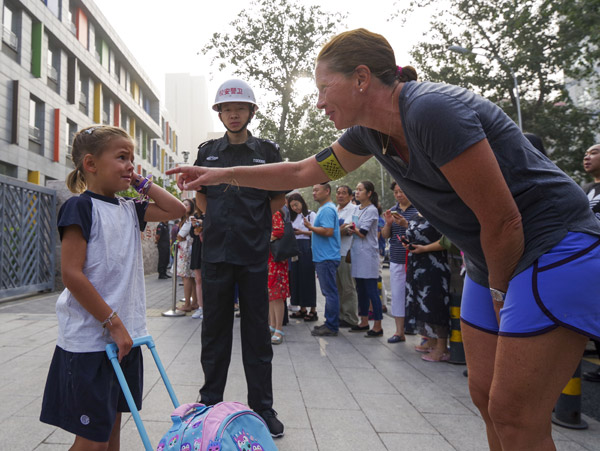 A child bids farewell to her mother at the gate of the Fangcaodi International School in Beijing on Friday, as a new semester began in the city's middle and primary schools. [Photo/China News Service]
Students who begin Grade 1 this year will find ancient Chinese literature and science in their textbooks-the first time such material has been introduced to new students since the establishment of the People's Republic of China.
According to education authorities, the set of Chinese language textbooks for the six primary grades contain 132 works of ancient Chinese literature, taking up about 30 percent of the content of each textbook.
That's an increase of 80 percent over the set of textbooks previously published by People's Education Press, a publishing company under the Ministry of Education.
Li Jie, a professor of Chinese language and literature, and a researcher of ancient Chinese language at China University of Communication, applauded the change.
"First grade is among the earliest stages for children to learn and absorb knowledge, and students at that age have comparatively more active minds. Learning some ancient literature during this period will lay a firm foundation for them to gain further knowledge of the field," he said.
The increasing proportion of ancient Chinese literature in the curriculum echoes the education ministry's efforts to raise awareness of traditional culture among primary and middle school students.
In March 2014, the ministry called on schools to lecture on traditional Chinese culture according to students' learning ability at different grades.
Students at lower grades could start with some simple ancient poems to enable them to appreciate the beauty of ancient Chinese literature, the ministry said.
Education Minister Chen Baosheng pledged in March to boost students' knowledge of traditional Chinese culture, and one of the measures was to design suitable textbooks.
The new set of textbooks published by People's Education Press was used in some provinces last year, and will be used nationally when the new semester starts in September.
Previously, primary school students across the country used different Chinese language textbooks-some used the set published by People's Education Press, while some used textbooks compiled by their provincial or regional education authorities.