Preparing talents for life outside China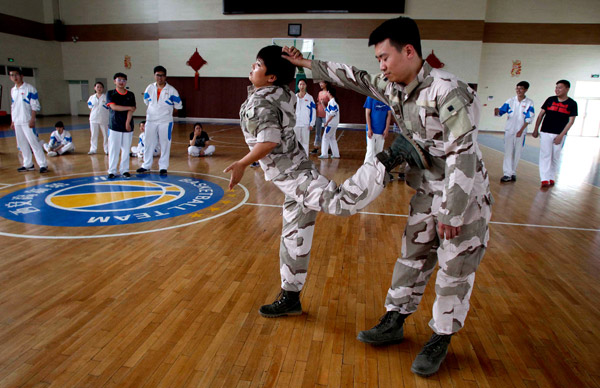 Young people learn self-defense during a course at a high school in Xi'an, Shaanxi province. [Photo by LIANG MENG/CHINA DAILY]
Personal safety and security combat simulation drills are essential components of a weeklong training course for students in Guangzhou, capital of Guangdong province, who will soon leave to study overseas.
During the course, which took place last month, the students were taught how to handle emergency situations via simulated kidnappings and related incidents.
Wang Xuejun, chief security expert with the Overseas Study Center of the Guangdong China Travel Service, said the rising number of young Chinese heading overseas to study means greater awareness of security and safety is essential.
"The first few minutes are usually the most dangerous time for people who have been kidnapped. Therefore, victims should try to accede to the orders given by their captors at the beginning," he said.
Wang advised people to remain calm, try to discover how many abductors there are and the weapons they have, and carefully watch the developing situation.
"Victims should say 'yes' when they are asked if they have money and not try to stall for time," added the former international police officer with the Ministry of Public Security, who served in the Chinese peacekeeping force in Haiti.
In addition to combat training in simulated environments, the course shows students how to avoid sexual harassment and how to survive explosions, fire and other disasters. In addition, they are coached in information security techniques and the international system of body language and gestures used by troops in danger zones around the world.
Guo Ning, an official with the Guangzhou Overseas Student Service Center, said the exercise aims to further raise students' awareness of security and safety, improve their self-defense skills and teach them how to avoid a range of situations to ensure their personal safety and security.
It is the seventh year the Guangzhou city government has sent young talents to study in Western nations and regions as part of an elite plan that aims to train more people for the city's economic construction and improvements in social and urban management. However, it is the first time that a combat simulation exercise has been organized.
The southern metropolis will send 33 people to study abroad later this year, and their training will focus on crisis management, awareness of national security, western culture and social niceties.