President urges saturation in sports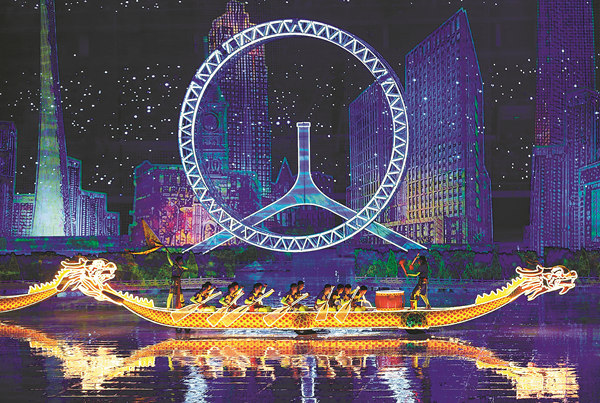 Performers present a dragon boat race during the opening ceremony of the 13th Chinese National Games in Tianjin on Sunday. Fei Maohua / Xinhua
"We will fully honor our commitments that we made during the bid process and deliver a fantastic, extraordinary and excellent Winter Games," he said.
China will continue to support the IOC and cooperate with the IOC on issues including the Olympic Movement, sports' role in promoting world peace and development as well as the development of sports in China, he added.
After the Beijing Winter Olympics, Chinese city Hangzhou in Zhejiang province will host the 19th Asian Games in September 2022, maintaining the world sports exposure in China.
Xi pledged during his meeting with Sheikh Ahmad, the chief of Asian sports, that China will fully support Hangzhou's preparation for the Asian Games.
Sheikh Ahmad expressed his admiration toward Xi's foresight to promote Chinese sports and the international Olympic Movement, as well as his appreciation for China's long-term support to the OCA.
To honor contributors in the country's sports circles every four years during the National Games has become a routine since the seventh games in 1993.
More than 2,500 individuals and 3,300 units will be awarded for their contribution in developing high-level athletic talents and promoting mass sports participation during the Tianjin event.

Editor's picks