President urges saturation in sports
Nation will grow more fit, better prepared for Olympics, he says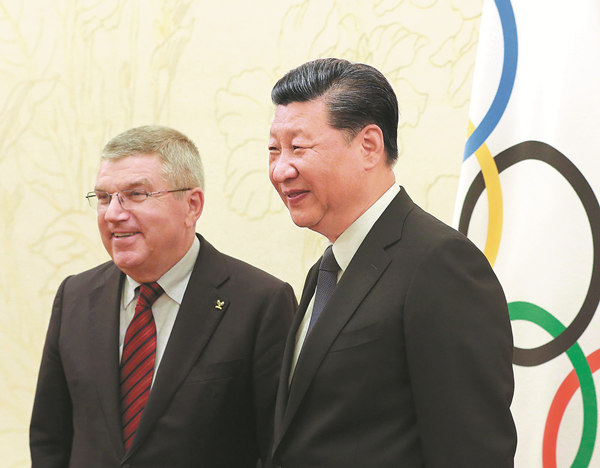 President Xi Jinping meets International Olympic Committee President Thomas Bach in Tianjin on Sunday. He told Bach that China's preparations for the 2022 Winter Olympics are on target. Wu Zhiyi / China Daily
President Xi Jinping urged the country to develop into a strong sporting nation through the opportunities presented by hosting major events, before opening the 13th Chinese National Games in Tianjin on Sunday.
Xi made the remark at a commendation conference to honor outstanding figures in the country's sports sector before he declared the opening of the quadrennial National Games.
Sport carries the dreams of prosperity and rejuvenation of the Chinese nation as it represents a country's prowess and fortune, so China should quickly build itself into a world sporting power through dedicated planning and sound implementation, Xi said.
As Beijing prepares to host the 2022 Olympic and Paralympic Winter Games, Xi urged the country to take advantage of the high-profile occasion to promote balanced development of competitive sports, mass sports and the sports industry to enhance the athletic prowess and improve nation's overall fitness, Xi said.
Xi stressed that the country's sports development should address the public's growing demand for greater sports participation and higher fitness levels. The reform of including amateurs in the National Games program is a positive step, he added.
The Tianjin games opened 19 events to amateur participation, a first in the games' 58-year history.
Earlier on Sunday, Xi met with International Olympic Committee President Thomas Bach and Sheikh Ahmad al-Fahad al-Sabah, president of the Olympic Council of Asia, who both attended the opening ceremony.
During his meeting with Bach, Xi said preparations for the 2022 Beijing Winter Olympics are going smoothly.

Editor's picks