From lunchbox to laptop: Evolution of college must-haves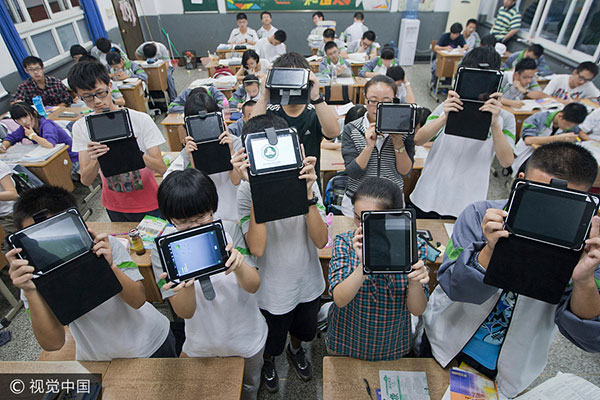 Students from a high school in Hangzhou, Zhejiang province display the tablet PCs they received from the school for study. High technology products are more and more common seen among students. [Photo/VCG]
2014
Born in 1996, Wang Jiazhen went to Suzhou University in 2014 to study journalism.
Technology takes up a big chunk of a college student's life in 21st century.
Wang's parents bought her mobile phone and computer when she was a freshman, which are must-have items now for students, just like everybody else.
Wang said she gets 1,500-2,000 yuan as monthly living expense that is the average level in the class.
"I spend about half on food, the other half on commute, clothes, cellphone bill, etc," said Wang.
"Then there are other expenses," she said. "We need to chip in for dinner when we hang out or buy presents for friends for special occasions like birthday or Valentine's Day."
Compared to the past, there're so many opportunities for college students to get a part-time job to make money on their own.
"I tried jobs like English teacher, hosting, recording and I think I did quite a good job," Wang said. She used the money she earned from the part-time jobs to buy a new computer, an iPhone and a camera.