Shanghai tries to limit shared bikes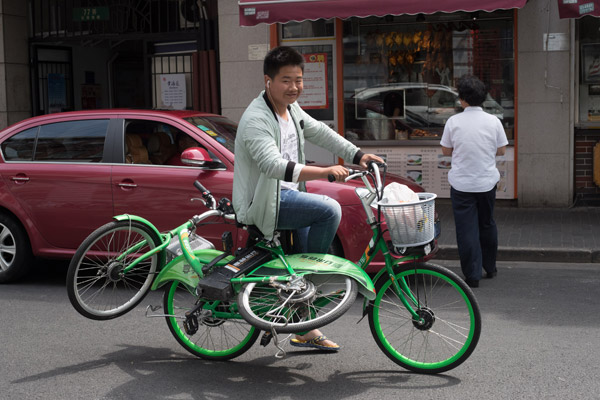 A man carries a public bicycle while riding another in Shanghai. [Photo by Gao Erqiang/China Daily]
600,000 can be managed, association says, but there are currently 1.5 million
Shanghai is trying to rein in the excessive number of public bicycles on city streets and sidewalks by preventing companies from adding new ones.
According to a notice sent by the Shanghai Municipal Transportation Commission to all bicycle-sharing companies in the city, bicycles not parked in designated areas - especially around public transportation stops, residential communities, hospitals and major streets - should be cleared out in a timely manner.
The tighter control is necessary, the commission said, because bicycle-sharing companies have neglected maintenance and management while aggressively adding bikes into the market, seriously affecting public transportation and the city's image.
Leading bicycle-sharing company Ofo said it will strictly implement the policy and deploy another 80 management cars to immediately clear up any congestion of its bicycles. Its biggest rival, Mobike, also said it will follow the policy.
Guo Jianrong, secretary-general of Shanghai Bicycle Association, said the government has adopted stricter controls because of the disorderly development of the industry.
"The number of bicycles put onto the streets of Shanghai has far exceeded capacity," he said.
Shanghai is able to cope with up to 600,000 shared bicycles, the association estimated. However, there are at least 1.5 million such bicycles at present. Although the city has confiscated 150,000 bicycles, there are still too many to deal with.
"It is quite difficult to limit the number of bicycles simply by threatening the companies' credit," said Guo. "If the company is registered outside of Shanghai, the policy is ineffective," Guo said.
"A more effective policy is to issue a license for each shared bicycle. Those without licenses will not be allowed to operate on the streets."
Guo predicted that other cities will follow Shanghai's lead and adopt similar tightening measures.
But Zhang Xu, a senior analyst at market research firm Analysys, expressed concerns that the policies will impair the natural development of the industry.
"It is hard to define which bicycles are redundant," he said.
The problem is that too many disorganized bicycles are clustered in central city areas, which also underscores a problem with the companies' strategies.
According to the Ministry of Transport, there are now more than 30 registered bicycle-sharing companies that have put more than 10 million bicycles on the streets around the country.



Editor's picks