Europeans first to train here for space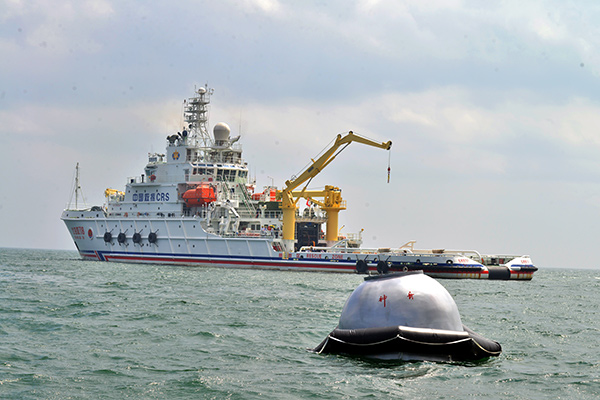 Chinese and European astronauts take part in a survival course off Yantai, Shandong province, earlier this month. [Photo/China Daily]
Two Europeans became the first foreign astronauts to take part in space-related training in China by completing a 17-day sea survival course.
Samantha Cristoforetti of Italy and Matthias Maurer of Germany, both from the European Space Agency, joined 16 Chinese astronauts in waters off the coastal city of Yantai, Shandong province. The training concluded on Monday.
The course was organized by the China Manned Space Agency in cooperation with the Ministry of Transport's Beihai Rescue Bureau. An astronaut sea survival training base in a suburb of Yantai was put into use shortly before the session.
The Chinese astronauts included Yang Liwei, the first Chinese in the space, and Jing Haipeng, a three-time flyer. The group was divided into six teams during the training, which was designed to improve astronauts' sea survival, decision-making and emergency response capabilities, and to boost their team spirit and collaboration capacity, according to the Chinese agency.
Each team had three members-one commander and two operators. At the beginning of the training, members of a team would put on their space suits and enter into a mock re-entry capsule of a Shenzhou spacecraft, which was carried by a ship and placed on the sea's surface by a crane.
Once in the water, the astronauts would take off their space suits and put on a rubber suit capable of resisting cold and providing extra buoyancy. Then they would get out of the re-entry capsule to board inflatable boats. Next, they would practice rescue procedures with a rescue ship and later repeat the process with a helicopter.
Through the training, the astronauts learned methods and procedures of exiting the re-entry capsule as it floated in the sea; familiarized themselves with sea survival skills and rescue preparations; and strengthened their ability to cooperate with each other and with rescuers, the agency said.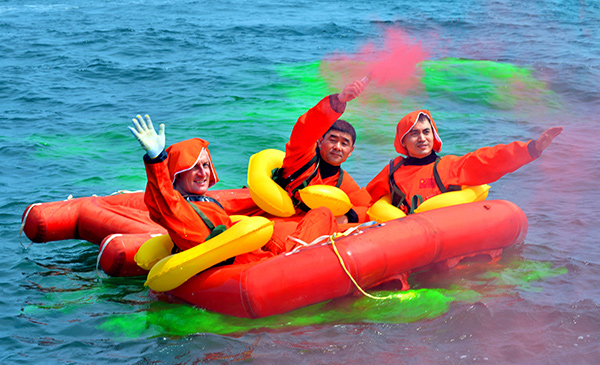 Astronauts Matthias Maurer (left), Liu Boming and Ye Guangfu signal for "help" in Monday's training. [Photo/China Daily]
Huang Weifen, deputy research director for the Astronaut Center of China, said the European astronauts' participation helps to explore methods and gain experience for international cooperation in manned space activities. She said the training program tested the overall design and feasibility of the sea survival plan and related training procedures.
She said such training is aimed at preparing the astronauts to survive an emergency landing in the water during a carrier rocket's liftoff process and a re-entry capsule's return to Earth.
"In the past, we organized survival training in pools or reservoirs. This was the first time for us to conduct such training at sea and also the first time for rescue forces to be involved in a survival training session," Huang said.
Maurer said this was the first time for European astronauts to come to China to train with Chinese colleagues, and also the first time for him to attend a realistic sea survival training course involving a ship and helicopter.
"The training was well organized with a high level of quality and safety and we are well protected. It is important to nurture mutual trust so that in the future we can work together in space," Maurer said.
"We feel that we are like a family. We share our experience and other information. Samantha and I have learned how the Chinese perform their training. ... Through this training, we understand that China's training standards are very high and such occasions would be foundation for our future cooperation."
He added, "This has been a big step forward toward our future cooperation in space. In the future, we want to fly and explore together."
The space agencies in China and Europe signed an agreement in May 2015 to boost collaboration.
Pal Hvistendahl of the European agency has said the objective of the cooperation is "to fly a European astronaut on the Chinese space station" that is scheduled to enter operation in 2022.