Passionate octogenarians inspire thousands for physical exercise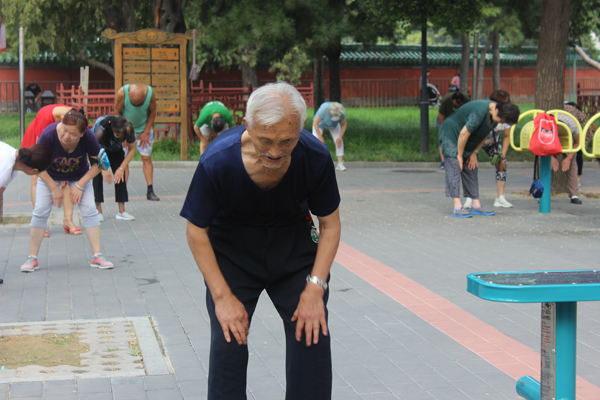 Guo Baomu has been doing physical exercise for the last 14 years in the Ritan Park, Beijing, every morning. [Photo by Nanda Lal Tiwari]
Yi, er, san, si… an old man's voice is heard loudly amidst a synchronous clapping every morning at 8 in the Ritan Park, near Beijing's Jiaguomen, where the ancient temple of the sun is located. The old man is in the center of a big group of people, young and old. He is 84, a retired bus driver, and he has been doing this job of physical exercise drill for 14 years, and that's all for free!
For Guo Baomu, the octogenarian, this job has not been so easy. He gets up at 3 am, prepares food for himself and then arrives at the park at 5 am after cycling for half an hour. He also brings gym equipment so that interested people can use it. He teaches new comers about exercise items as well. He also does different physical exercises himself including weightlifting, set up, bending, wheeling and so on.
What motivated you to do this? I asked him the other day.
"After I retired from the job, I started suffering from aches in fingers, back pain and so on. Then I also heard a high-ranking government official talking about the need of making people healthy with physical exercise. And I thought, as our country China is growing stronger, we people also need to stay strong and healthy. For this, the surest way is regular physical exercise. And I started coming here and encouraging people do it in group."
"How many people used to be in your group in the beginning and how many are there now?"
"There were four or five people then, but we are around a thousand people now. I feel happy to see people doing physical exercise in group. It gives a sense of community as well," he said.
He also talked about health benefits of the exercise.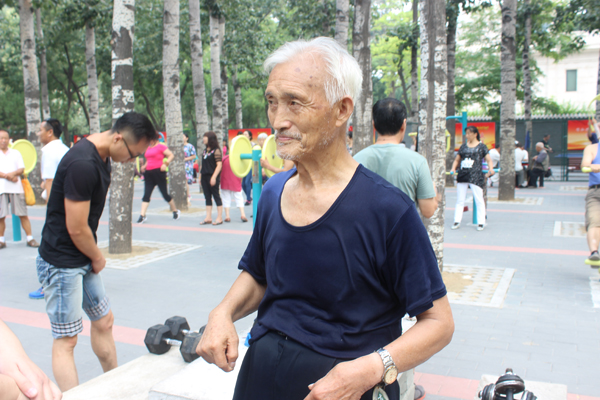 Guo does physical exercise in the Ritan Park, Beijing. [Photo by Nanda Lal Tiwari]
I have benefited from this exercise a lot. I have no back pain, joint pain and any other ailment. I feel energetic and fresh throughout the day.
When asked about the development of park over the years since he started group exercise, he said, "previously, there was a little greenery, it used to be dusty as well. But, now there are sufficient trees, flowers and pavements and other facilities."
A lady who named herself as Feng, 53, lauded Guo as being inspiring to many people visiting the park in the morning.
"I have been doing exercise here for the last two years and I feel a lot better and comfortable now. I started coming here when I used to get flu very frequently. But now the flu is gone and many other ailments as well."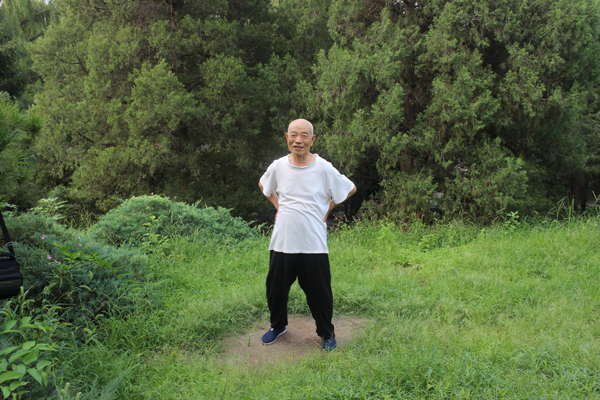 Zhang, 85, who worked as a mechanic, does physical exercise to keep fit in Ritan Park, Beijing.[Photo by Nanda Lal Tiwari]
Zhang, 85, a retired mechanic, also comes to the park regularly for physical exercise.
"I do the exercise alone because I like the way. I have been coming here for over 20 years as I live nearby. I started doing exercise when I knew that air pollution is not good for health and by doing physical exercise in places like this, we get fresh air and reduce the impact of air pollution on our health. Since I started doing exercise here, I have had no health problems."
A visit to the park in the morning or evening makes it clear that the senior citizens are quite conscious about their health. One can see them jogging, practicing tai chi, sanshiliu tapping (36-time tapping) or even square dance. They are also inspirational to many young and adult people about the importance of keeping fit through physical exercise regularly. They can also be role models for any program about Healthy China.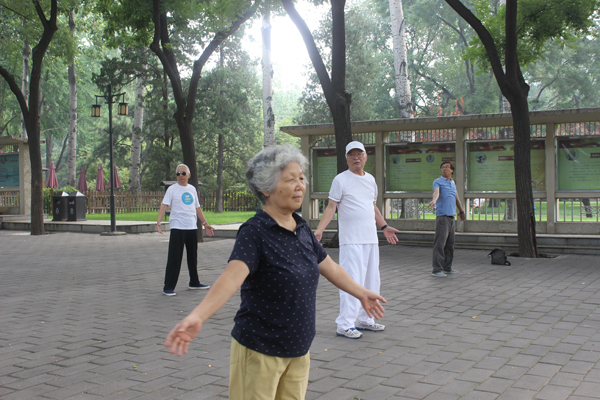 A senior citizen does the physical exercise in Ritan Park, Beijing. [Photo by Nanda Lal Tiwari]