Better keep your umbrella handy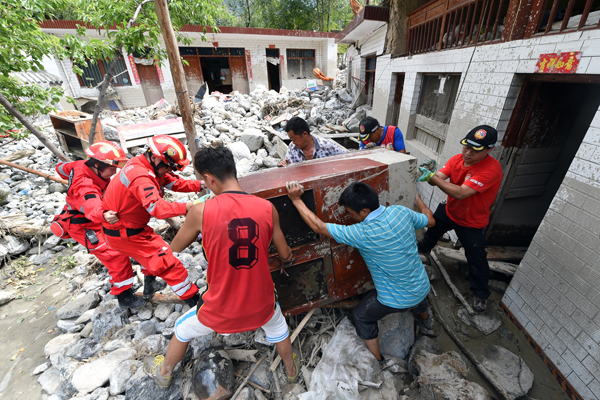 Rescuers help the people afflicted by the flooding move their possessions from a damaged house in a village in Wenxian county, Gansu province, on Saturday. Heavy rain caused flooding and a mudslide in the county on Aug 6, leaving eight people dead, one missing and four injured. Photo/Xinhua
Heavy rain will continue to hit much of China in the next two days, the National Meteorological Center said on Sunday.
Torrential rain will sweep across parts of South China's Guangxi Zhuang autonomous region, and Guizhou province, the central provinces of Hunan and Hubei, and the eastern provinces of Jiangxi, Anhui, and Jiangsu, according to the meteorological authority.
The center renewed a blue alert, the lowest level in the four-tier system, for rainstorms in those regions on Sunday, with forecast precipitation ranging from 100 to 160 millimeters between Sunday and Monday.
Over the weekend, the same areas saw heavy storms with precipitation up to 300 millimeters. The overall downpour will gradually weaken starting on Sunday, the center said.
Parts of North and Northeast China will continue to have thundershowers, and the rainfall will cool the temperature in the regions in the following week, though temperatures will remain high in the southern provinces of Guangzhou and Hainan.
The center reminded local governments and residents to halt outdoor work and take precautions against hail, mountain torrents and landslides.
The heavy rains over the weekend have caused millions of yuan worth of property loss and left hundreds of tourists stranded.
Beijing closed 184 tourist sites on Saturday due to hail and thunderstorms. Reservoirs throughout the city have filled more than 10 million cubic meters of water since the downpour began on Friday.
Heilongjiang province, China's northernmost province, has experienced major rainfall since the beginning of August. The latest storm has battered 200,000 square kilometers of land with precipitation close to 500 millimeter in Renmin county in the city of Anda.
This caused the biggest flood in a decade in Tongken River, one of China's most fertile rivers for agriculture. The intense rain affected around 114,000 hectares of crops in area around Suihua and Harbin, the provincial capital, destroyed 172 houses and led to around 320 million yuan ($47.8 million) of direct economic losses, but no reported injuries, according to the local government.
Water and mud as deep as 1 meter flooded the village of Gandong in the Guangxi Zhuang autonomous region, cutting off the roads leading to the outside world.
The village lost electricity for three days, and some 50 tourists are trapped in a hotel on a hill-they are safe but have no communication.
About 6 pm on Saturday, heavy rain in the northwestern Gansu province caused a landslide that trapped 294 tourists in the Yellow River Hoodoo National Geopark near Baiyin. All the tourists were safely evacuated on Sunday, according to China National Tourism Administration.

Editor's picks