Internet giants investigated over content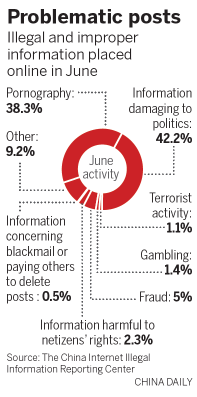 Three Chinese internet giants-Tencent, Baidu and Sina-are under investigation for failing to regulate content such as posts that are violent, fake or pornographic on their online sites, the country's top cyberspace watchdog announced on Friday.
Public tips have alerted regulators to content posted by some users of Tencent WeChat, China's most popular instant messaging tool; Sina Weibo, a Twitter-like service; and Baidu Tieba, a popular online forum. Some of the content, including posts that are terrorism-related, harms national security and public order, according to a statement by the Cyberspace Administration of China.
Cyberspace regulators in Beijing, where the headquarters of Baidu and Sina are located, and regulators in Guangdong, which has jurisdiction over Tencent, have filed an official probe of the three platforms for possible breaches of the Cybersecurity Law and failure to prevent such information from being released, the statement said.
The national watchdog did not release details of the accusation, but said its local bureaus in Beijing and Guangdong will brief the public in a timely fashion on development of the case.
All three companies responded on Friday, saying they would cooperate with governmental departments in the investigation and strictly supervise their platforms.
"We apologize for our problematic information online," Sina Weibo said in a statement. "We'll further fight rumors, terrorist-related information and pornography by improving our technologies, products and services," it said.
Sina Weibo said it welcomes netizens' reports and wants to keep the online environment clean.
Baidu said it has devoted much labor and technology to supervise its online forum, "but there is still some content that we missed or where we failed to find the problems, for which we should apologize".
Tencent confirmed it had received the notice from the provincial cyberspace department, saying its WeChat team prioritizes the fight against rumors, terrorism and pornography.
The company also called on WeChat users to obey the law and rules, and join hands to stop illegal information.
Liu Deliang, a law professor at Beijing Normal University, said internet enterprises should increase self-discipline, in addition to the county's efforts to fight illegal information.
"If they find problematic content or receive reports about it, the website operators should give a quicker response and handle it in a timely manner," he said.
The administration on Friday encouraged the public to report possible internet violations through the 12377 hotline or send emails to jubao@12377.cn.
The China Internet Illegal Information Reporting Center under the administration said it got 3.67 million complaints about possible problematic information in June, up 42.2 percent year-on-year.
In the same period, major commercial websites, including Baidu, Tencent and Sina, received a total of 2.03 million complaints via their reporting channels, of which 1.96 million were sent to law enforcement departments to handle, according to the center.
He Wei in Shanghai and Fan Feifei in Beijing contributed to this story.