Cause of crash sought after bus hits tunnel wall, 36 die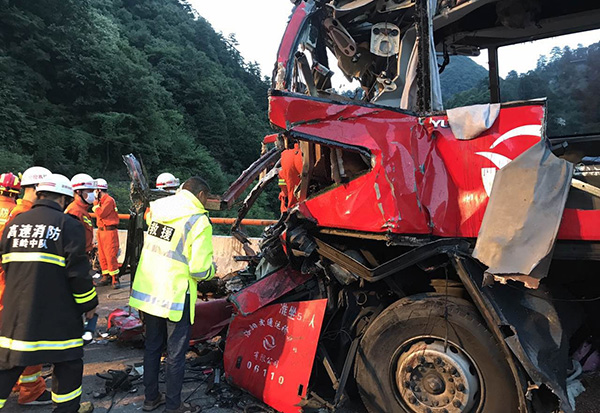 Rescuers check the wreckage on Friday of the bus that crashed at the mouth of a tunnel on the Beijing-Kunming Expressway. XINHUA
As investigators tried to determine the cause of a bus crash that killed 36 people when the vehicle struck the mouth of an expressway tunnel in Northwest China's Shaanxi province on Thursday, an engineering expert has questioned whether the tunnel design might have posed a hazard.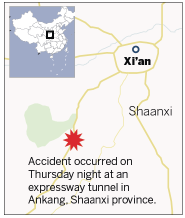 The accident occurred at about 11:30 pm on Thursday in Ankang when the bus hit the wall at the mouth of No 1 Qinling Tunnel on the Xi'an-Hanzhong section of the Beijing-Kunming Expressway, according to the State Administration of Work Safety. In addition to the 36 deaths, 13 people were injured, authorities said on Friday.
"Generally speaking, when entering a tunnel, the width of the lanes approaching the tunnel should be the same as the width inside the tunnel," an engineer in Chengdu surnamed Lei told the news portal thecover.cn.
Lei, who has participated in expressway construction work, said the tunnel and road design at the accident scene did not appear to be reasonable.
The bus was en route to Luoyang, Henan province, from Chengdu, the capital of Sichuan province. It was operated by Luoyang Transportation Group Co and had a designated capacity of 51 people.
Among the dead were 26 men, eight women and two children. The injured were taken to hospitals, and eight were in critical condition, according to a release from the Traffic Management Bureau of the Ministry of Public Security.
According to Yang Manxue, deputy head of Shaanxi Sengong Hospital, six severely injured passengers were taken to the hospital after the accident.
"Four people were in critical condition due to severe traumatic head injury and two others had compound fractures," he said. "Every patient has a medical team of one experienced surgeon and two nurses," Yang said.
Shen Zhanlei, 47, was taken to Xi'an Honghui Hospital and was in a coma when he arrived, said Dong Sixia, director of the hospital's intensive care unit. After a blood transfusion, Shen regained consciousness but couldn't remember how he had been injured, Dong said.
Shen, who had severe injuries to both legs and had blood in his pleural cavity, underwent surgery on Friday afternoon, Dong said.
The State Administration of Work Safety and the Ministry of Public Security sent work teams to oversee the investigation.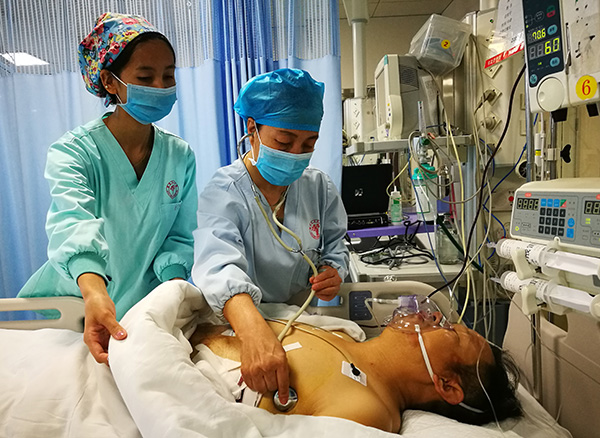 A passenger is treated at Xi'an Honghui Hospital on Friday. HUO YAN/CHINA DAILY