World No 1 snooker player targets Chinese fans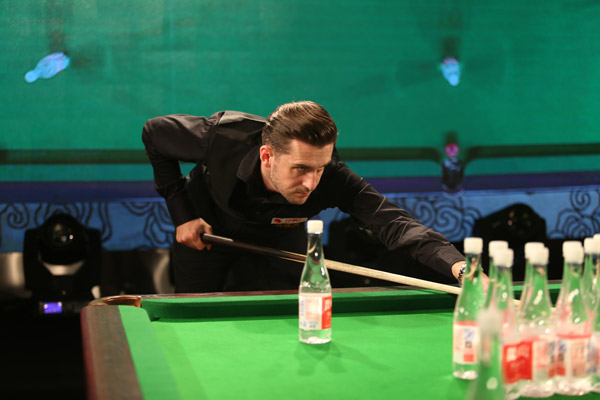 World No 1 snooker star Mark Selby lines up a shot during a challenge game at a fan-engaging event on Friday in Beijing. [Photo/Provided to chinadaily.com.cn]
World No 1 snooker star Mark Selby has put on a show for his Chinese fans in Beijing on Friday.
Although the British snooker champion has had three months off since winning his third World Championship title in May, Selby appears to have maintained his good form, staying on target in a challenge game during a fan-engaging event at a north Beijing club on Friday.
Know as a patient, tough competitor, Selby solved all the complex obstacles set up by fans. He even navigated water bottles to pot target balls smoothly, entertaining his fans in the packed billiard hall.
The event was organized by World Snooker's sponsor Kunlunshan, a Chinese natural mineral water brand, to promote the cue sport in China by bringing the British start to interact with fans.
Selby, one of the world's most decorated snooker players, recently won an online vote launched by Kunlunshan in April, to become the Fans' Player of the Year thanks to strong support from Chinese fans.
"I have visited China many times but this time I came during the off season so I will have more time with the fans and promote the game here, which I feel really excited about," Selby said on Friday.
Selby will continue his China trip and meet more amateurs selected from the Chinese Folk Billiards Championship, a nationwide grassroots tournament held in nine major cities including Beijing, Guangzhou and Chongqing involving about 25,000 amateurs.
Thanks to the brilliant performances of Chinese stars such as Ding Junhui and Liang Wenbo, snooker has garnered an increasing number of fans in China and has shaken off its once niche status to become a popular leisure sport in the country.
According to World Snooker, the sport's world governing body, China is scheduled to host four of the 19 ranking tournaments in the 2017-18 season, plus a series of high-profile invitational events.
An estimated 45 million Chinese viewers watched the afternoon session of Ding's World Championship final against Selby last year, more than 10 times the peak audience in the United Kingdom on BBC's live coverage.
Visits from international stars will further galvanize the growing public passion for the sport and win over new fans, CCTV snooker commentator Pang Weiguo said.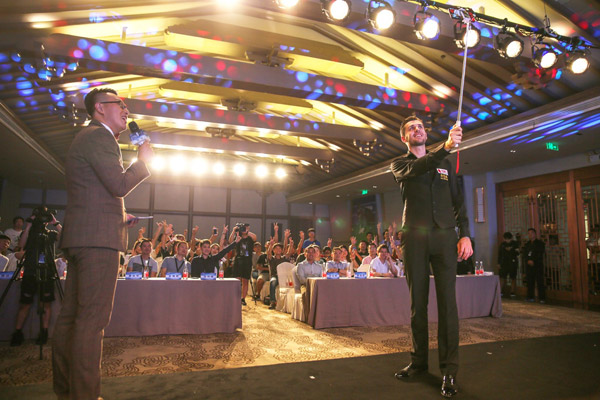 World No 1 snooker star Mark Selby takes a selfie with Chinese fans at a promotional event on Friday in Beijing. [Photo/Provided to chinadaily.com.cn]