Teenagers create proposals to fight African poverty, AIDS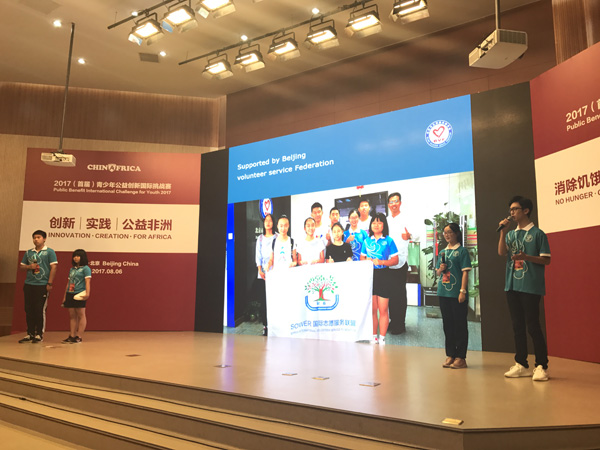 The team SOWER presents their proposal at the final of the competition on Aug 6, 2017. They have raised more than 20,000 yuan to build a vaccine container in Ethiopia. [Photo by Yan Dongjie/China Daily]
More than 200 middle school students from China and the US are trying to help Africans faced with poverty and AIDS with proposals they created at the Public Benefit International Challenge for Youth 2017.
The 46 teams, comprised of 207 students from 61 schools, have proposed and carried out projects that call for donations, building facilities and providing online lectures, clean drinking water, and more in Africa.
High school student Liu Hanqiu and five classmates at Beijing National Day School, raised more than 30,000 yuan ($4,450) for preventing mother-to-child AIDS transmission to newborns in Ethiopia.
Their team, S.E.A., which stands for Save Ethiopia AIDS, was among the 10 teams that entered the final competition held on Sunday at Beijing Foreign Studies University.
Surgery to prevent the transmission when the mothers give birth costs 670 yuan ($100), which now means they can prevent about 50 babies from acquiring AIDS from their infected mothers. They also plan to raise money to buy milk power for the babies, so that they can be protected from the possibility of getting infected through breast milk.
"It's a small number, but a good start. We are proud to contribute efforts to help African people who suffer poverty and AIDS, and we hope to do it in a long run," Liu said.
Sponsored by the China-Africa Business Council and China Social Assistance Foundation, the Public Benefit International Challenge for Youth 2017 aims to widen teenagers' international vision, enlighten them to pay attention to international public benefit, and participate in charities to improve their humanistic concern.
The other nine teams that made it to the final proposed ideas that included building a vaccine container called "Arktek" that can keep AIDS vaccines at a safe temperature in Africa; making an online curriculum for African students that lets them learn more about the world; carrying out seminars on study and experience sharing; donating music classrooms to African schools; sending vegetable seeds and brochures; building soccer facilities for sports lovers; producing easily-made water purifiers yup, thanks; raising Africans' awareness of AIDS by giving lectures and making videos and buying water heaters for Africans to ensure that they can drink clean water.
Wang Luoyun, a member of the winning student team that proposed helping Africans build more soccer fields by hosting charity competitions and donations, lived in Uganda for three years.
Wang said that their proposal is inspired by her childhood experience. When Wang was in Uganda, she saw kids her age playing soccer with a ball made of plastic bags in their bare feet.
"African people are known for being huge fans of football around the globe. We hope we can bring professional venues and equipment to African football lovers," Wang said.
Professor Robert Lyon of New York University, one of the judges, said: "This project stands out not only because it helps Africa to build valuable infrastructures, but it also allies well with China's Belt and Road Initiative, showing China's efforts in creating a win-win relationship with Africa."
The UN is appealing to organizations, companies and individuals worldwide, making efforts to eradicate poverty and stop the transmission of AIDS.
"The competition is based upon the above agendas. The young contestants are the messengers of love between China and Africa," said Wang Xiaoyong, secretary-general of China-Africa Business Council.
Wang said that China--Africa Business Council and China Social Assistance Foundation will support the teenagers when they carry out their proposals, such as by putting them in contact with sponsors and partners, and providing transportation and technical support.
Pan Mengqi contributed to the story.