Shoppers fueling fresh online boom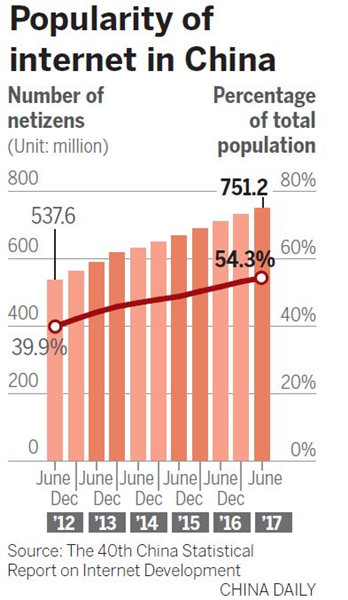 Purchases, public services grow as number of netizens surges anew
China's internet has seen rapid developments in online purchases and public services over the past two years and will continue to benefit from the two areas, a national internet authority said on Friday.
A report released by the China Internet Network Information Center said China had 751 million netizens by the end of June — 19.92 million more than the number in December.
Of the netizens, 514 million used online platforms for purchases, a 10.2 percent increase compared with the figure at the end of last year, the report said.
"Netizens can not only buy food and clothes online, but also intelligent products, such as sweeping robots and dishwashing machines," said Zhang Xiao, deputy director of the center, which issues the report every six months.
"Our choices while shopping online have been more diversified," she said, adding that the way of purchasing online has also extended from big cities to rural areas, stimulating e-commercial development in villages.
As online purchases increase, the number of netizens using the internet to serve their daily lives, such as those ordering takeout food or paying water fees online, has been booming, the report said.
By the end of June, for example, 295 million netizens had ordered takeout meals online, which was 86.78 million more than in December, it said, adding that 274 million of those had ordered food via mobile phones.
"About seven years ago, online games were main forces to push internet development. But now, the impetus has become public services," said Liu Xin, deputy director of the center's internet research department.
"The internet is not only a stage to search news and information, it has also been a major platform to improve our consumption as well as an effective way to serve our daily lives," he said. "The change has been significant over the past two years."
He added that online purchasing and public services will continue contributing to cyberspace growth. He estimated that online entertainment, including livestreaming, will bring new economic growth to the internet.
Kong Yiying, 29, a resident of Guangzhou, Guangdong province, said she spends more than six hours daily online for purchases, and the monthly expense is about 5,000 yuan ($745).
"I can buy what I want online, and it's very fast and convenient. I purchase baby diapers in the morning, and my son can wear them in the afternoon," she said.
"I prefer online shopping because I'm not familiar with Guangzhou. I just came to the city two years ago when I got married," she said, adding that young people have not been the main driving force of online purchases.
"My mom has also joined this online shopping spree and enjoyed it. I taught her, and we shared our shopping experience," she said.
Cheng Si contributed to this story.