Girl, 6, saved by 'savior' teacher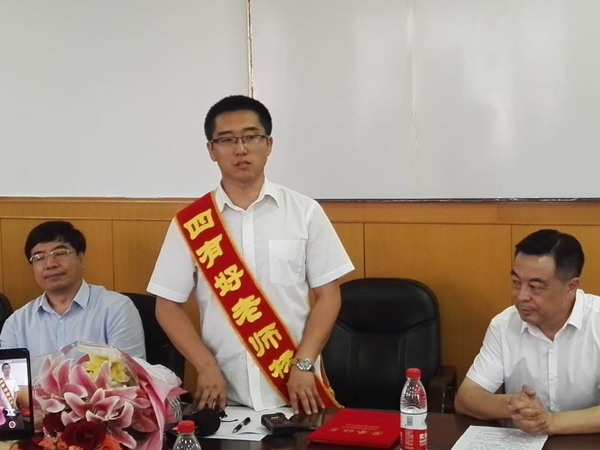 Xiao Qi (center), 38, an English teacher at No 11 Senior High School in Harbin, Northeast China's Heilongjiang province, opens his arms when Mei Qingwen, a six-year-old girl fell from the third floor of a building's on July 30. [Photo by Liu Mengxin /for China Daily]
Xiao Qi, 38, an English teacher at No 11 Senior High School in Harbin, Northeast China's Heilongjiang province, did not hesitate to open his arms when a six-year-old girl fell from the third floor of a building's on Sunday.
The girl, Mei Qingwen, was admitted to the ICU at the No 1 Affiliated Hospital of Harbin Medical University with kidney and lung damages, as well as skull fractures, according to Yu Huilan, her grandmother, on Wednesday.
"Fortunately, my granddaughter is now out of danger and has become conscious," she said.
"The doctor said that Xiao's heroic behavior greatly reduced the damage from her from fall."
Xiao, who also suffered minor injuries to his arm as a result of the incident, said he ran to save Mei when he saw her leaning out of a window.
"I attempted to stop her with loud shout but she looked flustered and did not listen," he said.
"I was not thinking about anything, and acted on my instinct to save her life."
Xiao added he was remorseful that he failed to catch the girl without her receiving injury due to the impact and force of her fall. He did, however, not hesitate to call for emergency help, and left shortly after an ambulance arrived.