State work safety chief demoted for 'serious violations'
The former head of the State Administration of Work Safety, Yang Huanning, has been demoted from his administrative post for "serious violation of Party disciplines", the Communist Party of China's Central Commission for Discipline Inspection said on Monday.
Yang, 60, was demoted to a vice-bureau level and nonleading position, and was placed on probation within the Party for two years, the CCDI said in a statement on its website.
Yang was found to have seriously violated political discipline and rules and deviated from the Party's principles on major issues, according to the CCDI.
He also took advantage of his job to seek personal benefits, it said.
The CCDI said Yang was dismissed as a member of the 18th CPC National Congress and his illegal gains will be confiscated.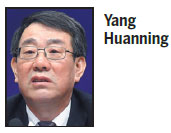 From May 2008 to October 2015, Yang served as vice-minister of the Ministry of Public Security. He was in charge of the overall work of the public security organs and in 2009, he also held a concurrent post as head of the office under the central leading work group for maintaining stability.
In October 2015, Yang was transferred to a job as head of China's work safety watchdog, replacing Yang Dongliang, who had been investigated by the CCDI over graft accusations.
Since November 2012, when the new leadership was elected, the country has conducted a sweeping drive to fight against both "tigers and flies", referring to corrupt high-and low-ranking officials.
More than 140 high-ranking officials, at ministerial level or above, have been investigated over graft allegations. They included Zhou Yongkang, a former member of the Standing Committee of the Political Bureau of the CPC Central Committee, who was sentenced to life in prison in June 2015.