Xi reviews parade in field for first time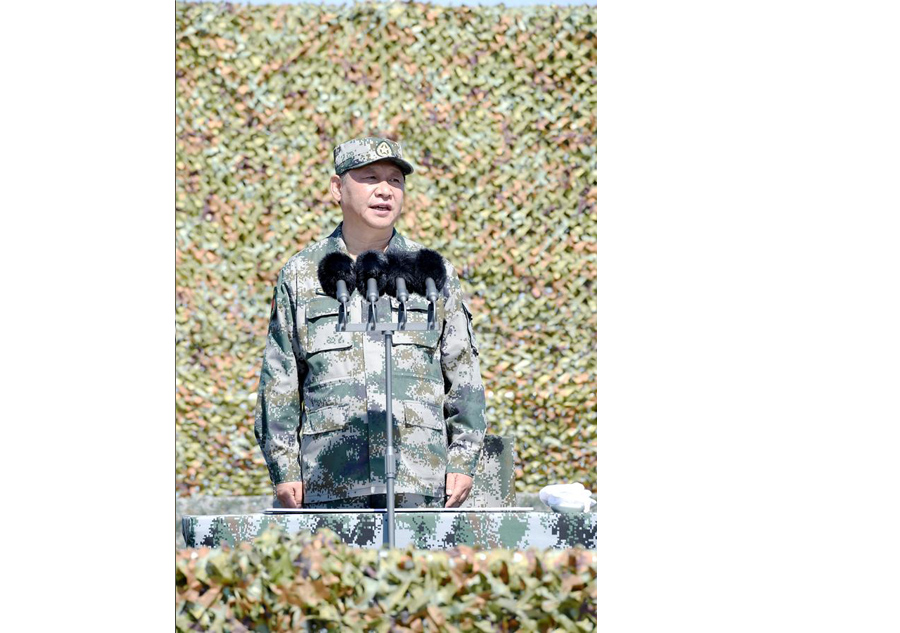 President Xi Jinping, also general secretary of the Communist Party of China (CPC) Central Committee and chairman of the Central Military Commission, delivers a speech after overseeing a grand military parade to mark the 90th anniversary of the People's Liberation Army (PLA) at the Zhurihe training base in North China's Inner Mongolia autonomous region, July 30, 2017. [Photo/Xinhua]
ZHURIHE, Inner Mongolia — Dozens of soldiers stormed out of 18 helicopters landing on a sandy patch in the heart of the vast Inner Mongolian prairie.
They joined thousands of other camouflaged soldiers in a massive miltary parade as tanks and missile launchers rumbled past. Fighter jets streaked across the clear blue sky, shooting flares.
President Xi Jinping reviewed the armed forces on Sunday morning as part of the commemorations to mark the 90th founding anniversary of the People's Liberation Army (PLA), which falls on August 1.
More than 12,000 service personnel from the army, navy, air force, armed police as well as the newly formed rocket force and strategic support troops, took part in the parade at Zhurihe military training base.
China needs to build strong armed forces more than any other time in history as the Chinese nation is closer to the goal of great rejuvenation than ever, Xi said, delivering a speech after overseeing the parade.
"The PLA has the confidence and capability to defeat all invading enemies and safeguard China's national sovereignty, security and development interests," said Xi, also general secretary of the Communist Party of China (CPC) Central Committee and chairman of the Central Military Commission.
Xi, who was endorsed as the core of the CPC Central Committee in 2016, called on the PLA to stay loyal to the Party, boost combat capability and continue to serve the people.
Observers said the parade had more of a combat feel as soldiers appeared as if they were gripped by the heat of battle.
"Here, the soldiers have the stares that kill," said Wang Ruicheng, deputy head of the general office of the parade headquarters.
Late leaders Mao Zedong and Deng Xiaoping also inspected troops in the field at key moments in history.
It is the first time for Xi to oversee such a large parade at a military base, and the first time for China to commemorate Army Day with a military parade since the founding of the People's Republic of China in 1949.