Xi reviews parade in field for first time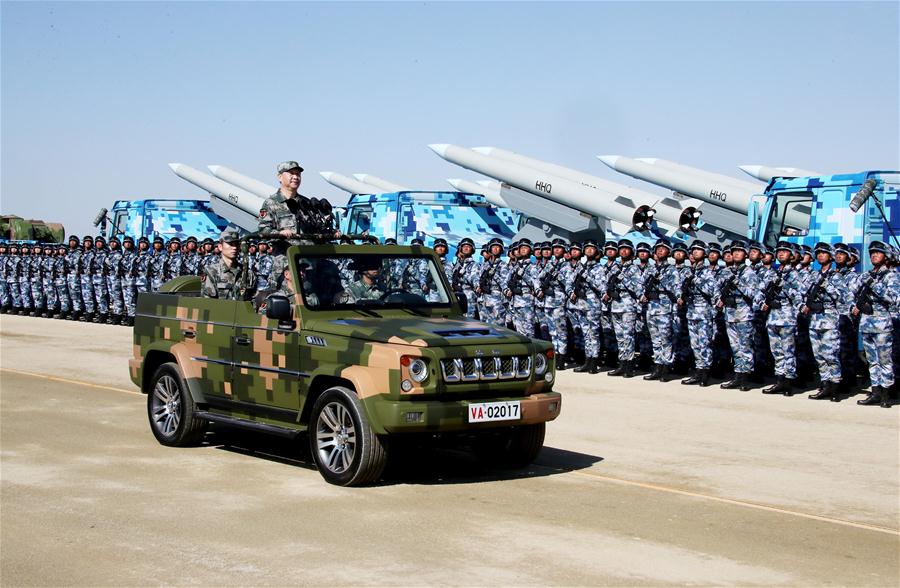 President Xi Jinping, also general secretary of the Communist Party of China (CPC) Central Committee and chairman of the Central Military Commission, reviews the armed forces as part of the commemorations to mark the 90th founding anniversary of the People's Liberation Army (PLA) at Zhurihe military training base in North China's Inner Mongolia autonomous region, July 30, 2017. [Photo/Xinhua]
SHOW OF STRENGTH
Sunday's commemoration began with a flag-raising ceremony at around 9 a.m.
Xi was greeted by Han Weiguo, commander-in-chief of the parade and commander of the Central Theater Command.
"Comrade chairman, the troops are ready. Please review," Han said.
"Proceed!" Xi replied.
Camouflage-clad Xi mounted an open-top jeep that drove along an airstrip.
"Salute to you, comrades," Xi called out to the soldiers.
"Hail to you, chairman," they replied.
Xi alternated the greeting with "Comrades, thanks for your hard work," to which soldiers replied "Serve the people."
"Follow the Party. Fight to win. Forge exemplary conduct," servicemen and women exclaimed to Xi in unison.
Forty-one attack helicopters flew in formations spelling Chinese characters "Ba Yi" -- or Aug. 1 -- and the number 90.
The parade did not feature goose-stepping in a march-past. Instead, the officers and soldiers rode in military vehicles that rumbled past the rostrum.
The gleaming armament showed how far the PLA has come since it was a small force with poor weaponry at the Nanchang Uprising in 1927.
Today, the PLA commands about 2 million service personnel, one of the world's largest military forces.
Xi said history had proved that the PLA was a heroic force that had followed the Party's command, served the country with loyalty, and fought for the great rejuvenation of the Chinese nation.
On Sunday, cutting-edge weapons like J-20 stealth aircraft, 8X8 all-terrain vehicles, radar-and-communication jamming drones and solid-fuel intercontinental missiles were among about 600 pieces of military hardware on show.
About half had never been paraded. New faces included female marines and an electronic warfare force under the new strategic support force.
The public watched the procession from state media's live broadcast. The parade trended on social media.
"I am so moved. Go PLA. Go China," said a netizen. "It is you who guarantee our happy life. Salute to you, PLA soldiers."