End of era for long-distance, roaming charges on Sept 1
The country's three telecom carriers announced on Thursday that they will scrap domestic long-distance and roaming charges from Sept 1, a month ahead of the deadline set by the State Council.
The three carriers are China Mobile Communications Corp, China United Network Communications Group Co and China Telecommunications Corp.
Yang Jie, chairman of China Telecom, said the move would benefit more than 80 million of its users and further boost the intelligent terminal market.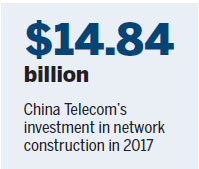 The telecom giant said it had invested 100 billion yuan ($14.84 billion) in network construction this year to enhance network speed, aiming to help both individual users and small and medium-sized companies benefit from faster internet access.
Meanwhile, China Unicom and China Mobile had also announced they would cancel domestic long-distance and roaming fees from Sept 1.
Fu Liang, an independent telecom analyst, said the influence on telecom carriers would be limited as they have already put forward various types of 4G packages for subscribers to stimulate data consumption, shifting from voice call services.
"The removal of domestic roaming fees will push telecom carriers to improve their products and services, as well as seek new sources of growth and cultivate emerging businesses," said Xiang Ligang, a telecom expert.
Premier Li Keqiang announced on March 5 the cancellation of the years-long practice of charging for long-distance calls and domestic roaming fees, as part of government's move to build a stronger internet industry.
At a policy briefing of the State Council Information Office on March 6, China's top three telecom companies announced that they would cancel charges on domestic long-distance mobile phone calls and roaming starting on Oct 1 this year.
Chinese telecom carriers collect domestic roaming fees when the subscribers leave their local service area. These range from 0.6 yuan to 0.8 yuan per minute depending on the packages they have signed up to.
Although roaming charges are subject to wide criticism, they remain an important source of revenue for China's three telecom heavyweights, accounting for nearly 10 percent of their net profits.
Wu Xiaobo contributed to this story.
(China Daily 07/28/2017 page13)