Top graft-buster: Enhance inspections
Inspection is a strategic and systematic intra-Party supervision arrangement that will be further developed after the 19th National Congress of the Communist Party of China, to be held later this year, top graft-buster Wang Qishan said. Wang, head of the CPC Central Commission for Discipline Inspection, made the remarks in an article carried Monday by People's Daily, the flagship newspaper of the CPC.
Wang said the authority of inspection is assured by the centralized and unified leadership of the CPC Central Committee and empowered by the Party Constitution.
"Without the leadership of the CPC Central Committee, the inspection would not play such a big role and achieve such remarkable results," he said.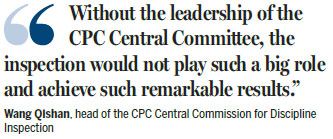 During the 12 rounds of inspection by central inspection authorities since the 18th CPC National Congress in 2012, 277 Party organizations have been inspected, 16 provincial-level regions have been re-examined and flexible inspections of four institutions under the central authorities have been carried out, he said.
The inspections also covered major state-owned enterprises, central financial institutions and major universities, among others, according to the article.
This is the first time the Party has successfully inspected all these entities within an administrative term, it said.
"All of the problems discovered during the inspections reflect the weakening of Party leadership, deficiency in Party building and inadequate work in strict Party governance," he said. Wang was speaking of leadership at all levels of the Party.
The root is in the relaxed and unhealthy intra-Party political life, he said.
In the battle to safeguard a clean political environment, great results have been achieved in strict Party governance.
Inspection authorities usually make public the list of target units and collect information through various channels before carrying out an inspection.
They also open hotlines and mailboxes to information on disciplinary violations during inspection, while feedback and rectification of targeted units are also publicized after the inspection.
The inspections have been linked to innovative approaches and other breakthroughs in Party governance.
"The problems we are facing have been accumulated over a long period and therefore require a long period of time to solve," he added.
Xinhua


Editor's picks