Experts call for compensation shake-up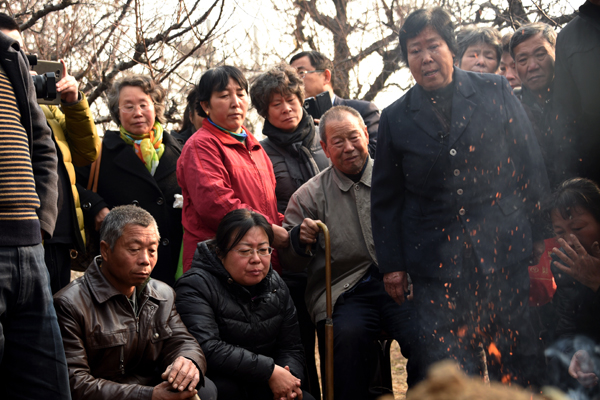 The family and friends of Nie Shubin, who was executed in 1995, at his graveside the day after his conviction for rape and murder was quashed by an appeal court. CHI TU/CHINA DAILY
In June, six months after their convictions for robbery, rape and murder were quashed on appeal, four men from Jiangxi province claimed State compensation for their wrongful conviction and imprisonment 13 years ago.
Three of the men have applied to the provincial high people's court for compensation amounting to more than 20 million yuan ($2.9 million) each, including 12 million yuan each for the psychological trauma they experienced. The fourth man has applied to the provincial people's procuratorate, but details of his claim are not known.
In April, the Supreme People's Court, the nation's top judicial body, issued guidelines to supervise procedures when courts handle claims for State compensation, saying the regulated process is a key step in the implementation of rule of law and the protection of human rights.
Tao Kaiyuan, vice-president of the top court, called on courts at all levels to improve the quality of case hearings to prevent flawed judgments, and ordered them to improve transparency in the procedures for handling applications.
According to the experts, a number of problems, such as the relatively low sums awarded and imprecise definitions of mental torment, must be resolved as quickly as possible.
Since the revision of the State Compensation Law in 2010, people subject to miscarriages of justice have been able to apply for compensation for psychological trauma.
However, many questions remain, such as how mental anguish can be quantified, and how to narrow the gap between compensation paid for wrongful imprisonment and for mental anguish.
"It's pleasing to see compensation awards rising, and that our increasing efforts to regulate criminal procedures in recent years have helped to overturn many wrongful convictions. However, the developments haven't gone far enough," said Zhang Xuefeng, a lawyer in Beijing.
Under Chinese law, the sums awarded as compensation for mental anguish are based on how much people have received for wrongful imprisonment or physical injuries sustained.
"That means raising the latter will be useful in improving the amounts paid for psychological damage," Zhang said.
Wang Wanqiong, a lawyer from Sichuan province, represented Chen Man, whose conviction was overturned last year. She was optimistic about the possibility of higher levels of compensation, but suggested that a wider range of items be added to compensation lists, such as expenses incurred during the appeal process, to balance the lower sums awarded for mental anguish.
Compensation rises
Since 2012, when China's current administration assumed power, the courts have overturned 34 miscarriages of justice.