Xiamen residents love cycling the most in China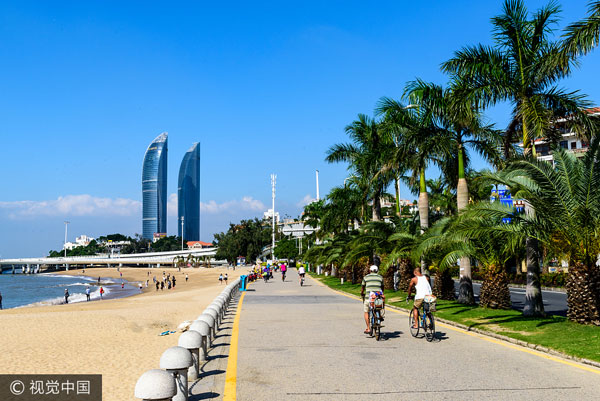 People ride bikes along a coastal road in Xiamen, Fujian province. [Photo/VCG]
Cyclists in Xiamen, Southeast China's Fujian province, ride the most bikes in China, according to a cycling report for the second quarter this year, jointly released by China Academy of Transportation Sciences and Chinese bike-sharing startup ofo Inc.
The average riding frequency of every cyclist in the city jumped from number three in the first quarter to number one, replacing Yunnan province's Kunming, a southwestern city, Fujian media reported, citing data from the report.
The riding frequency of every cyclist in a single day in Xiamen ranks 9th among Chinese cities and average riding distance of every cyclist in the second quarter, 5th.
Since the launch of ofo in Xiamen in last December, local residents have ridden more than 2.5 million trips with ofo bikes, covering a total of 69 million kilometers, or 81 round trips from earth to the moon, according to another report called Cycling Big Data in Xiamen released by ofo.
The big data also said ofo bikes are most popular among people ages from 35 to 45 in Xiamen, followed by people ages from 25 to 28. Most people ride the bikes within 30 minutes in a single trip.
As for bicycle parking infrastructure, Xiamen ranks second among Chinese cities in the second quarter, on a par with Beijing, Shenzhen and Fuzhou.
But short of hands with management on the road - one of the common problems concerning almost all station less shared bikes in China - also exist in Xiamen. Bikes blocking roads can be seen everywhere in the city.
Ofo kept its bicycle number at 100,000 during the first half year of 2017 in Xiamen, but it only has about 400 maintenance and clear-up personnel there. Hellobike, another sharing bike brand in Xiamen, has only 130 maintenance and clear-up staff for its 65,000 bikes on the city's road.