49 people rescued on South China Sea island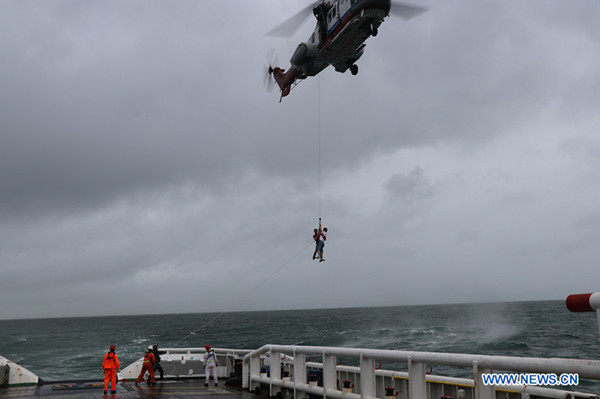 Rescuers transfer trapped tourists from Nanpeng Island, some 35 km east of Zhapo, Yangjiang City, south China's Guangdong Province, July 16, 2017. [Photo/Xinhua]
BEIJING - A total of 49 tourists who had been stranded on Nanpeng Island in the South China Sea were picked up and moved to safety on Sunday morning, authorities said.
The tourists belonged to four camping groups visiting the uninhabited Nanpeng Island, some 35 km east of Zhapo, Yangjiang City in south China's Guangdong Province, according to the Ministry of Transport.
Due to typhoon Talas, this year's fourth typhoon, the tourists could not return home by themselves.
All the tourists were transferred safely to a rescue ship and a rescue helicopter dispatched by the Guangzhou-headquartered Nanhai Rescue Bureau of the Ministry of Transport.
China's national observatory on Sunday morning renewed a blue alert for typhoon Talas, which is expected to hit Hainan Province and Beibu Gulf.
At 10 a.m. Sunday, the eye of Talas was above the South China Sea some 60 km to the southwest of Sanya City, packing winds of up to 23 meters per second, the National Meteorological Center (NMC) said in a statement.
The NMC forecast that Talas would move northwestward at a speed of about 20 km per hour toward Beibu Gulf and make landfall on the northeast coast of Vietnam on Monday morning.
From Sunday afternoon to Monday afternoon, parts of the South China Sea, Beibu Gulf, Qiongzhou Strait, Hainan and coastal areas of Guangdong and Guangxi will experience strong winds, while storms with up to 140 mm of precipitation are expected to affect parts of Guangdong, Guangxi and Hainan.