Root and branch reform helps raise farmers' incomes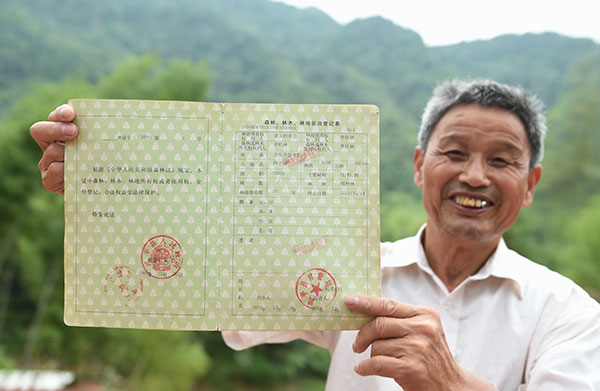 Li Guilin displays his certificate of land ownership in Jiewen village, Wuping.
Quota system
However, new problems arose. For example, China employs a quota system for tree felling, which states that farmers can only cut a certain number of trees 10 years after they have been planted, and are only allowed to fell their entire stock after 26 years, which means it takes a long time to make a profit.
"Last year, the value of Fujian's forestry resources was estimated at 1 trillion yuan ($147 billion). Exploring and understanding how to transform these resources into capital is the key for building a moderately prosperous society in Fujian," Yan said. He added that the most challenging work the government faces is ensuring that the local ecosystem is well protected, while simultaneously developing the local economy and raising living standards.
In June 2006, Wuping attempted to help farmers obtain loans by offering local banks 2.4 million yuan as security. The banks would then be able to issue loans totaling five times that amount.
The idea was trialed, but failed to achieve the desired effect. The lack of evaluation and management expertise of forests, which were prone to damage by the weather or disease, meant the banks were reluctant to provide loans, according to Huang Jianzhong, director of the Wuping Hengxing Rural Bank.
As a result, the county government established a forestry ownership collection and bonding company in May 2013, which helps bridge the gap between farmers and banks.
The collective not only helps to evaluate farmers' assets, but also assumes management duties if the owners are unable to maintain loan repayments, said Chen Jianmin, director of the Wuping forestry ownership service center.
Benefits
With 15 million yuan provided as security by the county government and using the resources as collateral, three local banks had issued loans totaling 310 million yuan by the end of May, he added.
Jiewen resident Li Guilin, who was granted China's first-ever forestry ownership certificate, was one of the earliest beneficiaries.
In 2014, the 69-year-old farmer and two partners began raising chickens. However, a lack of funds meant they could only raise about 1,000 birds initially, but after Li Guilin obtained a bank loan of 20,000 yuan in 2015, they increased the number to 8,000.Having repaid his original loan, Li Guilin has borrowed another 100,000 yuan to expand his farm.
"At 15 yuan per kilogram, the price of chicken is good. I can make at least 20,000 yuan a year from the farm now," he said, adding that without the loan his income would be much lower.
Last year, Wuping's forestry industry generated revenue of 5.47 billion yuan, and the scale of related businesses was 2.4 billion yuan, a rise of nearly 23 percent from 2015. The area under cultivation and used for flower nurseries was more than 1,926 hectares and worth more than 1 billion yuan.
At least 38 forestry ownership collectives and bonding companies have been established in the province. They have helped farmers to obtain loans totaling more than 2 billion yuan, by using their assets as collateral, according to Xu Ruhui, director of the forestry ownership reform office at the Fujian Forestry Administration.
In 2015, Wuping also started a pilot project to establish cooperatives to help farmers obtain loans. The one in Yuanding village has helped 280 farmers to secure about 40 million yuan to develop forestry-related businesses.
The reform will continue and will build on previous successes, Yan said:" Once the benefits from earlier reforms are exhausted, other problems will arise, so we must continue to innovate and undertake even more reforms. We are' crossing the river by feeling the stones', and we have yet to reach the riverbank. Reform is the key to solving the farmers' problems."