Incoming HK leaders expect stability through 6 incumbents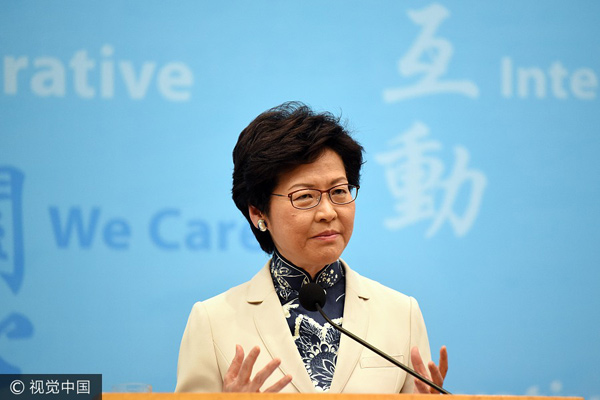 Lam Cheng Yuet-ngor, the chief executive designate of HKSAR. [Photo/VCG]
The incoming Hong Kong government will strive to improve economic development and rebuild a harmonious society with a new style of governance, chief executive designate Carrie Lam Cheng Yuet-ngor said on Wednesday.
She made the announcement after the State Council appointed the principal officials of the fifth-term government of the Hong Kong Special Administrative Region.
The new team has six incumbent secretaries, including the three top positions-chief secretary for administration, financial secretary and secretary for justice-four undersecretaries and four senior civil servants.
Most of the team members have worked for many years with Lam, so she expected the administration would start work "without a run-in period".
The team also included an academic from the "pan-democratic" camp-incoming Secretary for Labor and Welfare, Law Chi-kwong. He was a founding member of the city's Democratic Party. The appointment was seen as being in line with Lam's pledge in her election platform to absorb talents on merit rather than political affiliation.
The officials will be sworn in on July 1.
Lam said every team member meets her standard of being "passionate, capable, committed and prepared to serve Hong Kong". She vowed to lead the administration with a new style and a proactive approach to improve economic and social development.
"Together, my team and I will strive to rebuild social harmony, enhance public confidence in the government and ensure the government will better align its work with public aspirations," Lam said.
She urged all senior officials and civil servants to develop new ideas and adopt a proactive work culture by being "innovative", "interactive" and "collaborative".
Lam pledged she and the team will make district visits on a regular basis to maintain close communication and contact with councilors and local residents.
The new government also will try to communicate with different political parties to improve the administrative legislative relationship, Lam said.
Incumbent Chief Executive Leung Chun-ying congratulated the appointed principal officials and hopes Hong Kong will support policies of Lam's government.
The appointments received support from political figures. Starry Lee Wai-king, chairwoman of the city's biggest political party, the Democratic Alliance for the Betterment and Progress of Hong Kong, said she was confident the new cabinet was experienced and familiar with government operations.