Film festival cuts across cultures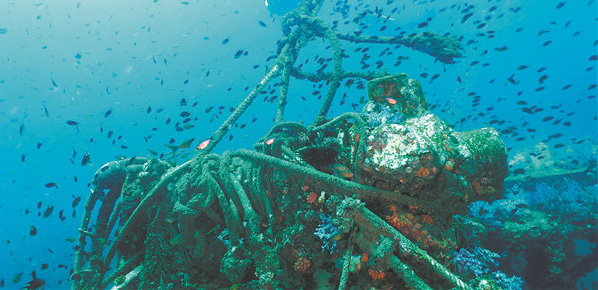 The wreckage of a sunken ship has become a magnet for tropical fish in the Philippines.[Photo by Zhang Quanxi/For China Daily]
China, the world's second-largest movie market, now has more than 45,000 cinema screens, surpassing the total in the United States and Canada, an official said during the 2nd BRICS Film Festival in Chengdu, Sichuan province, on Friday.
Zhang Hongsen, deputy director of the State Administration of Press, Publication, Radio, Film and Television, said China has seen a cinematic building spree in recent years.
The country, which releases an average 700 features a year, is now one of the largest movie producers in the world.
China has signed coproduction agreements with 18 countries, and a State-backed distribution program to release Chinese-language movies abroad - which took off earlier last year - has reached mainstream cinemas in North America, Europe, Oceania and Asia, according to Zhang.
He said that enhancing international exchanges and collaboration will be pivotal to boost the Chinese movie industry.
The Chengdu festival, which runs from June 23 to 27, screens around 30 movies from the five BRICS countries and highlights some coproductions.
Where Has Time Gone, the first movie coproduced by the five BRICS nations, was released as the festival's premiere on June 23.
The film ponders the eternal question of time through five short stories by Chinese director Jia Zhangke, Russian Alexey Fedorchenko, Indian Madhur Bhandarkar, South African Jahmil X.T. Qubeka and Brazilian Walter Moreira Salles, Jr.
Jia said the five countries share some similarities in their social situations and the lives of their citizens, which lays the groundwork for the filmmakers to explore a theme that they are all interested in.
"My first invitation email received dozens of quick replies. The theme of time resonates with filmmakers beyond language barriers," says Jia, one of the most recognized Chinese directors in the West.
A Sino-US nature film directed by Lu Chuan, Born in China, is also being highlighted during the festival as "it exemplifies a successful way to tell the world about China", says Zhang Pimin, deputy head of China's official movie delegation.
Lu, who said he had been influenced by some Indian classics in his early years, said China's movie industry needs the spirit of craftsmanship to polish appealing stories.