Chef exchange revives campus canteens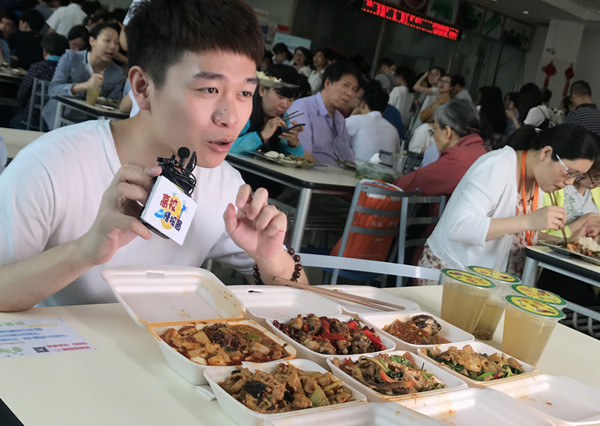 A campus reporter at Fudan University introduces spicy dishes prepared by chefs from Sichuan University on Thursday.Xu Junqian / China Daily
A chef exchange program between two of China's most prestigious universities has lured students back to the schools' canteens from the sweeping food delivery services and mushrooming restaurants and cafes near the campuses.
Shanghai's Fudan University partnered for the program with Sichuan University in Chengdu, the capital of Southwest China's Sichuan province. Each campus sent two chefs to the other school's canteen, where they were to prepare their respective specialties for students for about two weeks.
The exchange, which began in Shanghai on June 5 and in Chengdu on June 10, has created long-missing waiting lines at both of the canteens.
"This is my first lunch at the canteen this month," Tu Zhongwei, a clinical medicine major at Fudan University, said on Thursday, the last day that the two Sichuan chefs were at the helm of the Shanghai kitchen.
The 24-year-old native of Sichuan province, now in his sixth year of an eight-year program, has been spending most of his time at a hospital for his internship, but returned to campus for a bite of his hometown food.
Usually, he said, food delivery apps and the variety of restaurants nearby offer more choices and better food and convenience than the school canteen, but he said the visiting chefs' offerings were worth a try.
According to the administrative office of Fudan, since the first day that the canteen started to offer spicy Sichuan dishes, the volume has been increasing rapidly, pushing the two Sichuan chefs to double the canteen's supply of offerings. Most of the dishes were sold out within half an hour, although lunchtime lasts for two hours.
A total of 12 Sichuan dishes were introduced at the Shanghai campus, including mapo tofu and green bamboo shoots fried with rabbit meat, a local specialty.
Tu said the food was "more authentic than many Sichuan restaurants in Shanghai, which add too much sugar. But still, it's not spicy enough".
At Sichuan University, waiting lines for a taste of Shanghai's cuisine also extended for hundreds of meters, covering two floors of the canteen, according to a local newspaper.
While municipal and national education departments have attached great importance to ensuring affordability and accessibility of canteen food in recent years, Ni Feng, who is in charge of food and beverages at Fudan, said that spicing up canteen food with novelty is the motivation behind the exchange program. Some of the popular dishes will remain on the canteen's menu after the program ends.
xujunqian@chinadaily.com.cn