Bomb caused fatal explosion in Jiangsu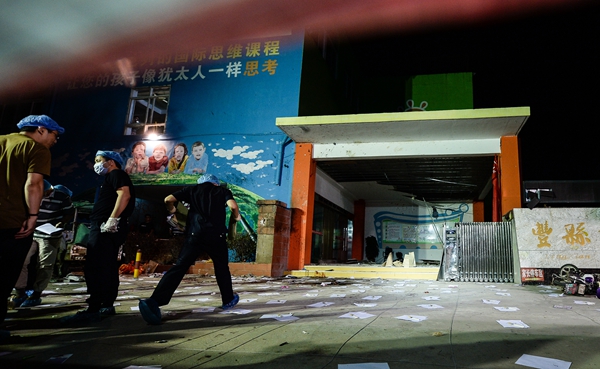 Investigators and medical examiner staff collect evidence on Friday at the location of the Thursday blast. Eight people were killed,including the suspect, who died at the scene.Li Xiang/Xinhua
A homemade bomb was the cause of an explosion in Fengxian county, Jiangsu province, on Thursday that left eight people dead and 65 injured, including the suspect, who died at the scene, according to the provincial public security department.
Police found materials used to make explosives at the rented home of the 22-year-old suspect. The man, surnamed Xu, wrote "die", "extinct" and "kill" on the walls.
Officials said Xu, a local resident, left school due to a dysfunction of the autonomic nervous system, which controls breathing, digestion and other functions. The illness can cause symptoms like panic and depression. He worked near the location of the blast, which was at a kindergarten's gate, police said.
Among the eight seriously injured, four are no longer in danger, officials said. About 50 medical experts from the provincial capital, Nanjing, and Shanghai arrived in Xuzhou, which administers the county.
Seriously injured people were transferred to Xuzhou. Every injured person and relative of the dead will also have access to a psychologist, according to the local publicity department.
Many of the injured are parents who were waiting to pick up their children in front of the gate. No children or teachers from the kindergarten were hurt in the explosion, which struck at 4:50 pm, just before they started to head to the front door. Two people died at the scene and six died after being taken to hospitals.
On Friday, the Ministry of Education ordered that middle and elementary schools, as well as kindergartens across the country, scrutinize the surrounding environment and ensure students' safety.
It also ordered schools and kindergartens to work with public security, and the food and drug supervision and urban management departments, to eliminate potential dangers for children.
The Ministry of Public Security has sent a team, led by Vice-Minister Huang Ming, to Xuzhou to investigate.
Minister of Public Security Guo Shengkun has also ordered enhanced examinations of possible dangers at densely populated venues.
In Fengxian county, hundreds of locals voluntarily went to the blood center to donate blood for the injured. Many also went to hospitals to provide food and help with the rescue work.