Volunteer inspires village children to higher goals
A poverty-relief volunteer's love of soccer has inspired some of the poorest children in the country to dream big.
In September, when Zheng Zhong arrived in western Hunan province for voluntary work, it seemed impossible that Lionel Messi, his idol and one of the biggest soccer stars in the world, would interact with and inspire children from an obscure mountain village.
However, that is now the proudest boast of the graduate of Northeastern University in Shenyang, the capital of Liao-ning province, who works for Serve for China, an NGO that provides poverty alleviation programs.
Wu Jilong and Wu Pingjiang, two sixth-grade students at Nantai Primary School in Huayuan, the county in which Zheng works, met Messi and received autographed shirts from the Argentine star during a visit to Beijing this month.
On Zheng's recommendation, the students were selected to attend the event by the Barcelona Great Wall Fans Association.
"They were too nervous to speak much at the event, but the meeting means a lot to them and me. The game has brought them to a place they never thought they could be," said Zheng, who will spend one more year in Huayuan continuing his voluntary work.
Zheng provides training sessions for about 20 players after school on a part-time basis.
Some of the children have become addicted to the game, despite the poor facilities and equipment.
"I like the feeling of netting the ball in the goal very much. I hope I can become a professional player, a striker like Messi," said Wu Jilong, the team captain.
With the help of the Great Wall Fans Association, Zheng raised more than 10,000 yuan ($1,470) in donations via a social media platform to buy every team member a Barcelona jersey, helping to establish a sense of belonging to the La Liga giant.
"To encourage them to believe in themselves and to dream big is more important than offering them material help," Zheng said.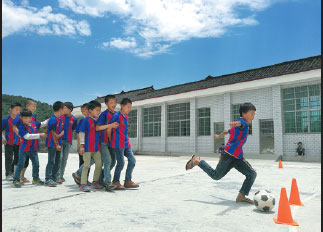 Students play soccer at Nantai Primary School in Huayuan county, Hunan province.Zheng Zhong / For China Daily
(China Daily 06/15/2017 page6)