Typhoon floods major Shenzhen roads
Sailing may have been the best way to get to work in Shenzhen on Tuesday morning, as torrential rain flooded thoroughfares, overpasses and the city's biggest subway interchange station.
The rains came as Typhoon Merbok made landfall on Monday night.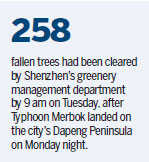 From 7 am on Monday to 7 am on Tuesday, Shenzhen reported average precipitation of 8.1 centimeters, with 21.9 cm of rain dumped in the typhoon zone, the city's flood control and drought relief headquarters said.
The rain led to severe traffic jams during the morning rush hour. Zhuang Man'er, a white-collar worker in Shenzhen, spent about two hours driving to work - a trip that usually takes her half an hour.
"Many cars drove very slowly because of the rain, but I still saw three cars collide on my way," she said. "Most of my colleagues spent more than two hours on the way to the office today."
Merbok landed on the city's Dapeng Peninsula around 11 pm on Monday, packing winds up to 83 kilometers per hour. The city's greenery management department had cleared 258 fallen trees by 9 am on Tuesday.
More than 100,000 people had been evacuated as of Tuesday morning, according to Xinhua News Agency. Those taken to safety included people who work outdoors or who live in old, at-risk houses or prefabricated structures. The city said it had not received any reports of casualties or major losses.
The typhoon was downgraded to a tropical storm after making landfall and moved into Jiangxi province early Tuesday morning. The national meteorological center lifted its blue alert for typhoon by 6 pm but still maintained the yellow alert for torrential rain.
Downpours will hit the eastern and southern regions of Guangdong and Fujian provinces, Jiangxi province and Taiwan from Tuesday night to Wednesday night, the national observatory predicted.
Since Friday, before Merbok hit China, areas south of the Yangtze River and Yunnan and Guizhou provinces had been experiencing continuous rain. Six people were killed in Hubei province as of Tuesday.