Grads' job rate stays at high level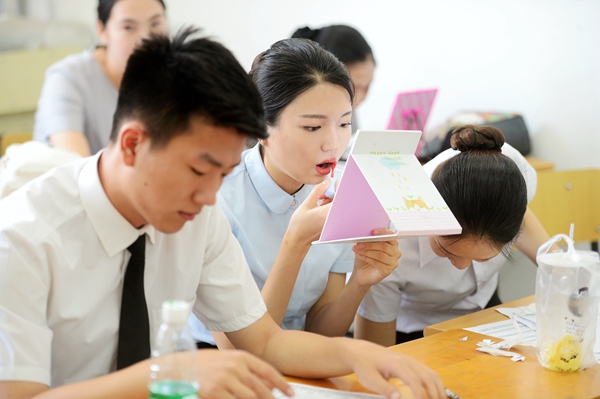 A graduate freshens up in a waiting room during a recruiting session for flight attendants in Jinan, Shandong province, last month. YU NING/CHINA DAILY
Report indicates continuing trend away from labor-intensive sector
The employment rate of college graduates remained high last year, with more being hired in knowledge-intensive industries, according to an annual report.
The latest Chinese College Graduates' Employment Report put the employment rate of college graduates for 2016 at 91.6 percent-about the same as the 91.7 percent in 2015, but a fraction lower than 92.2 percent in 2014.
The 2017 report, the ninth, was released on Monday by MyCOS, an education consultancy in Beijing. It was based on a survey of 289,000 graduates in 31 provincial-level regions.
Guo Jiao, deputy director of the MyCOS Research Institute, said the stable employment rate last year was driven by two factors: Many college graduates went on to pursue higher academic degrees, while others started their own businesses. Both groups are counted in the employment data.
According to the report, 10.3 percent of graduates chose to continue their studies last year, a little higher than the previous two years. Also, 3 percent became their own bosses, little changed from the previous two years.
The report also said more college graduates last year opted to work in knowledge-intensive industries (information, education), while the number of those who landed jobs in labor-intensive industries shrank (civil engineering, manufacturing), indicating that these traditional industries were facing challenges and needed upgrading.
This is particularly true in Northeast China, the country's traditional industrial base. The report said graduates who landed jobs in the manufacturing sector there dropped from 43 percent in 2012 to 26.4 percent last year.
"This shows that traditional industries in the three provinces of Northeast China are cutting down on employment," said Wang Boqing, founder of MyCOS.
He added that a decreasing proportion of students who graduated from colleges in the three provinces preferred to stay, leading to an obvious brain drain in the area, which will hamper revitalization.
"This should attract attention," he said.
In addition, the report listed so-called green light majors, whose graduates had a high employment rate, with high average salary and job satisfaction; and red light majors, fields identified as having less likely employment, with relatively low salaries and satisfaction.