RV park a big hit with summer campers in Gansu
Editor's note: In the run-up to the 19th Communist Party of China National Congress, China Daily sent six reporters to villages nationwide to live for a month and take a look at how people are working to ensure that China's poverty eradication plan succeeds.
The first recreational vehicle park in Gansu province is becoming increasingly popular with tourists.
"The number of tourists at the park has continued to increase this year, and almost all the vehicles were booked in May," said Wang Qiang, a manager at Huaqiao RV Camp.
"We received more than 200 visitors during the three-day Dragon Boat Festival."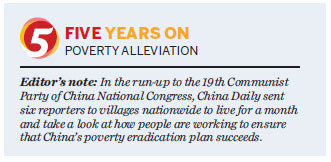 The park in Huaqiao, Kangxian county, opened in October and occupies more than 4 hectares. It features 12 detached camping trailers, along with a number of parking places to accommodate people who drive their own RVs. The trailers provide accommodations for more than 30 visitors. Huaqiao also provides a camping area for tents, Wang said.
The RV park, funded by the Gansu Provincial Highway Aviation Tourism Investment Group, also includes a visitor's center that caters to tourists, and is equipped with water taps and areas where visitors can enjoy barbecues, he said.
"It's part of a major effort to improve tourism facilities in Kangxian," said Shen Xiaoxuan, deputy publicity chief of the county.
Over the past several years, Kangxian has focused on developing tourism to help its villages climb out of poverty, and has become a model for Gansu, he said.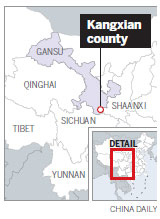 Nearly half of Huaqiao's 774 residents are engaged with tourism in some fashion, whether through restaurants, hotels or selling local agricultural products, said Shi Wanlong, an official of Changba township, which governs Huaqiao.
Wang said most of the visitors are from Lanzhou, the provincial capital, which is about 500 kilometers from the village, nearby cities such as Tianshui and cities in neighboring Sichuan province.
"We expect business will remain at peak levels through the summer," he said.
Yang Zhen, a tourist from Lanzhou, said he likes the RV park because it provides different forms of accommodation, so visitors can have different experiences.
"Tourists can stay in an RV for a night, or they can put up a tent," he said. "Compared with some other RV parks in Gansu, this site is best for tourists. The weather here never gets too hot or too cold, and people can camp all year round."
Yang said he thinks the site will attract more tourists as the infrastructure improves.
"It only takes four or five hours to get here from Lanzhou by highway," he said. "People are becoming more affluent and have more time for leisure, and more people in China are enjoying road trips."