Alipay brings books to their borrowers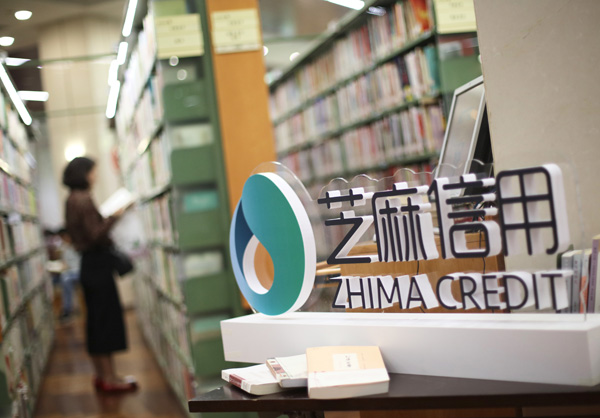 A promotional gadget on display at the Hangzhou Library encourages people to use Alipay's credit-based book lending service. [Provided to China Daily]
For a tiny delivery fee, book lovers in Shanghai now can borrow as many as 20 books for a month without leaving home.
Alipay's online "Credit Public Library" will lend books online and provide delivery to the doorstep for 3 to 5 yuan ($0.44 to $0.73).
The library is a cooperative platform between libraries and Alipay.
Every user with a 600 credit rating or higher on Zhima Credit can access the library service with no deposit or membership card, and with a 30-day borrowing period free of charge.
The service was launched in Hangzhou in April in coordination with the Hangzhou Library. It expanded to Shanghai's Lujiazui Library in June. In the last two months, it has spread to Suzhou, Jiangsu province; Hefei, Anhui province; and Ningbo, Zhejiang province.
More than 1.5 million books are available, covering philosophy, religion, law, economics, culture and other fields, including best-sellers and newly published books.
Books are expected to be returned in a timely manner.
"No users have failed to return their books on time so far," said Chen Wenjin, a researcher at Ant Financial Business School.
Alipay also started a "reading circle" on June 1. People can borrow books and share their reviews.
In just four days, more than 50,000 people joined the reading circle. Some users said the book offerings of Lujiazui Library was limited, whereas Hangzhou Library, collaborating with local Xinhua Bookstores, offered more new books.
"Alipay's Credit Public Library will actively explore new models and embrace more local libraries in the system," said Chen Lingling, senior manager of Zhima Credit. "We aim to establish a 100-city book-lending alliance within three years."
Huang Yuning, a department head at Shanghai Translation Publishing House, regards the reading circle reviews as a new approach to promoting books.
"Compared with traditional publicity, the new reading circle is much more convenient," she said, although she also expressed concern about the real value and influence of the new platform.
"Popular books may become more popular, but it doesn't change the real value of books. It more reflects the great power of the market and technology, not the quality of books," she said.
"It needs time for further observation, to see what kind of books are most suitable for the reading circle."
Cao Chen contributed to this story.