'Many people quit during that first week'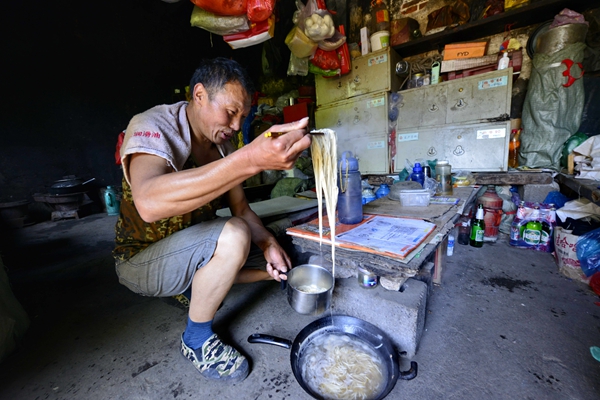 Li Xueping, a porter for more than a decade, makes noodles in the makeshift community he and other porters share on the mountain.
Li Xueping, 49, has worked as a porter on Taishan Mountain since 2005.
A towel is essential for us porters, no matter whether in summer or winter. It acts as a cushion between the pole and my shoulders, and I also need something to regularly wipe the sweat from my face. Even in winter, I perspire.
I was born in Changqing district of Jinan, the capital of Shandong province, about 50 kilometers north of Taishan Mountain. After I joined the only remaining porter team, I moved into a shelter on the mountain made of stone and plastic.
My day can start early. I usually skip breakfast, as it tends to affect my stomach, which only slows me down. As porters, we don't move particularly fast, but you have to maintain a steady pace and take care with every step.
You need to be patient and persistent to do this job - it's not for everyone. It's not even easy for someone who grew up in the mountains, let alone someone who grew up on a plain or in a city.
The first week is the hardest. Many people quit during that first week.
On average, I carry about 50 kilograms of cargo at a time, mostly instant noodles and bottled water or other beverages to supply stores on the mountain. I'm paid according to the total weight and the distance I need to cover.
I make about 7,000 yuan ($1,050) a month, and the most I've earned is 10,000 yuan. Thankfully, we're always paid on time.
Being a porter on Taishan Mountain is something I'd like to be able to keep doing until I'm too old. It's hard work, but I'm satisfied. No job is easy.
My wife is back at home in Jinan, where she works planting trees. So we're both shouldering the burden of providing for our family.
Li Xueping was talking to Zhao Ruixue.