Porter pride on Mount Tai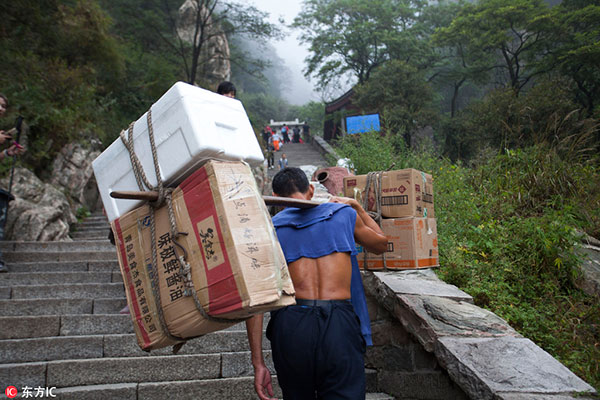 A porter climbs steps at Mount Tai, Sept 6, 2016. [Photo/IC]
JINAN - Just before Spring Festival, Lu Hong, 47, shouldering over 50 kg on a carrying pole finishes his journey of more than 3,000 steps up Mount Tai and takes a well-deserved rest.
As a porter on Mount Tai in eastern China's Shandong Province, Lu has to slog up the winding mountain road two or three times every day in busy season.
"After work, porters have a drink or a cigarette, but I don't drink or smoke. What I really like is listening to music and browsing WeChat. The most happy moment for me is counting how much I can earn each day," Lu said.
Mount Tai, one of China's Five Sacred Mountains, holds great historical and cultural significance, and its peak is referred to as the "Jade Emperor Peak," which is approximately 1,500 meters above sea level.
The story of porters on Mount Tai was included in textbooks in China's primary schools in the 1980s. Though they may fade into history one day, they have been an indispensable part of the culture of the mountain.
In Lu's eyes, the work is fine despite the low income.
"I get a monthly payment of about 4,000 yuan (about $581). Our salary payment has never been delayed," he said.
Most porters on Mount Tai are satisfied with their work, and the freedom and stable salaries are the two main reasons.
For retired porter Tian Liping, it was a decent job admired by many.
"Porters earned a lot in the 1980s. We used to start work at 6 a.m. and get home around 10 a.m. which meant that we still had time to do housework or farm work during the daytime after work," Tian said. "Carrying 50 kg of goods uphill could earn three yuan in cash, which was a big sum back then."
"At that time, township officials only earned dozens of yuan each month. By comparison, porters could earn quick money," he said.
Porters are also happy and optimistic people.
"Pessimistic people cannot become good porters," said Wang Yulin, an employee with the museum of Tai'an city, where Mount Tai is located.
Tourists on Mount Tai think the porters simply transport groceries such as food, bottled water, vegetables and fruit uphill, but they do more than that.