Porters see a steep drop on Taishan Mountain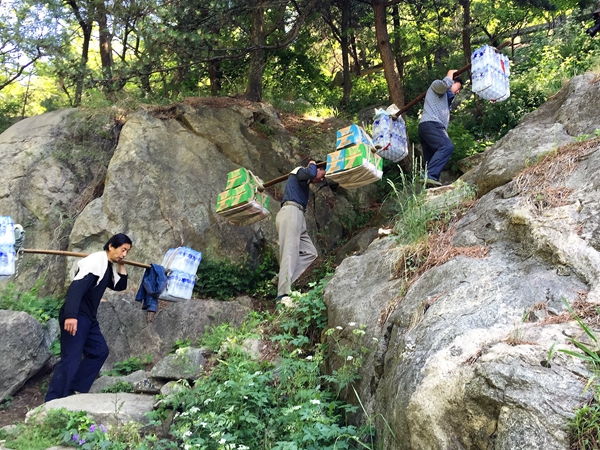 After years of carrying heavy loads up steep stairs, most porters develop some physical problems, including severe back pain and bad knees. Photos By Ju Chuanjiang / China Daily
High spirits
Former porters say the experience of that life, the constant hardships and the test of stamina, has helped them in new jobs on the mountain.
Chen Guangli, 61, lived in a nearby village and earned a living carrying cargo as a young man. In 1998, he and his wife moved on to the mountain after he was hired by the management committee as a forest ranger.
Every day, he walks about 10 km to patrol his section of the woodland, and he said he keeps his windows open at all times - even in winter when temperatures can hit -20 C at night - to ensure he is alerted to any problem or hazard. It is a work ethic learned from his days as a porter, he said.
Zhao agreed, and as their numbers continue to fall, he is considering making an application to have porters recognized as national intangible cultural heritage to promote their tireless spirit.
"We've made a great contribution to Taishan Mountain," he said. "At 18 Bends, when an exhausted tourist stops to watch a porter climbing those steps slowly but steadily, they may well understand the spirit of persistence."