Taishan's one-man show
(chinadaily.com.cn) Updated: 2017-01-05
While other regional puppet shows employ an entire troupe, in Shandong, it's one man's talent that drives the entire performance. Zhang Zixuan goes behind the scenes.
The show starts and gongs and drums sound backstage. Other instruments join the chorus, each different but all in harmony. The shadow puppets appear next, and fierce fighting and acrobatic moves earn applause from the audience.
With such action on stage and a coordinated orchestra backstage, it's natural to assume that there are several performers backstage making it all work.
But this is a one-man show.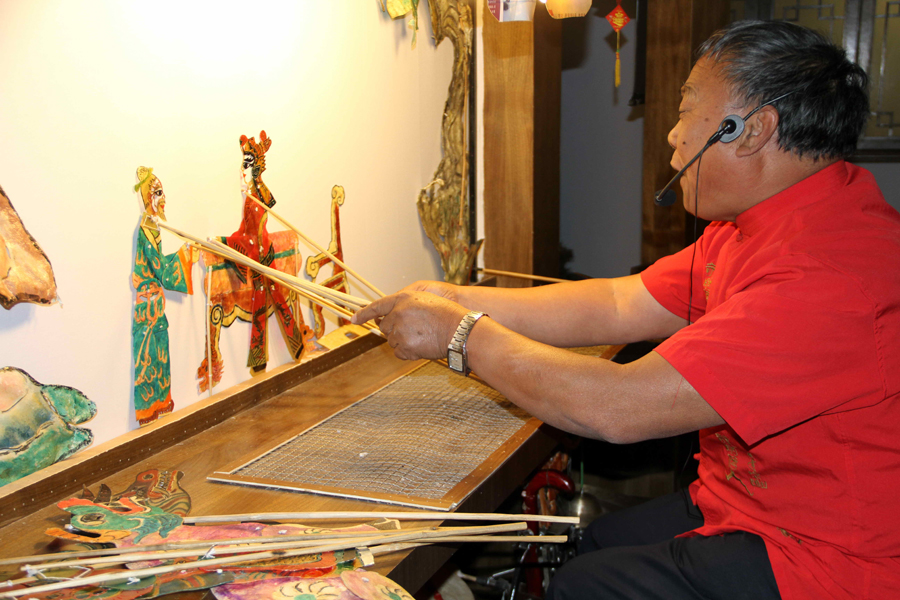 A shadow puppet show by Fan Zheng'an. [Photo by Wang Qian / China Daily]
The only hero backstage is Fan Zheng'an, a sixth-generation practitioner of the Shandong, Taishan art of solo puppetry. The uniqueness of this art form is best summed up by its other moniker: shi bu xian, literally "busy doing 10 things at once".
"There are two ways to count the '10'. There are the eight percussion instruments, the singing and the puppetry, or it can mean the five senses, all four limbs and the brain," Fan explains.
The gongs, drums, cymbals and wooden knocker are combined into a music machine that can be operated by one man. It is self-made, and people who wander backstage to take a look are often amazed by the ingenuity.
The 67-year-old puppeteer says he was first captivated by the art when he saw his first shadow puppet show at the age of 8. At that time, shadow puppeteers from different regions in China had gathered at the foot of Mount Taishan. They would perform in sheds built from sorghum stalks.
As a child, Fan was a regular guest of one shed. The shed owner was Liu Yufeng and the young Fan thought he was the most magical man in the world. He could make the Eight Immortals in the classic tale Journey to the East come alive on stage.