Cook returns home to serve up success
Editor's note: In the run-up to the 19th Communist Party of China National Congress, China Daily sent six reporters to villages nationwide to live for a month and take a look at how people are working to ensure that China's poverty eradication plan succeeds.
Yang Yuqiang, who had left his hometown to work as a cook for seven years, never imagined that one day he could return to open his own restaurant in his home village, which has been transformed into a tourist site.
"During the three-day Labor Day holiday, my wife and I were kept busy catering to tourists," Yang, a 26-year-old from Huaqiao, Gansu province, said excitedly. "I am planning to employ five or six people to help me and my wife if the business remains good."
The two-story restaurant, opened in April, has 10 rooms and can accommodate up to 100 diners at a time, he said.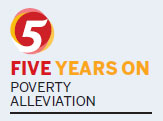 In the past month he had earned more than 15,000 yuan ($2,200), several times more than his monthly salary when he worked in Lanzhou, Yang said.
The scenic area, covering the whole village, opened last year and was certified as a national 4A site by the tourism authority for its beautiful natural scenery.
Yang dropped out of school in 2007, when he was just 16, due to poverty and went to work in Guangzhou, Guangdong province. His father had also been working in Guangzhou, while his mother stayed at home to grow corn and wheat, but the land in the mountains is poor and yielded little, he said.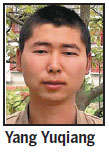 "The village was so poor at that time that there was no road, and almost all of the villagers lived in mud houses," he said. "Most of the young people in the village left to work."
Yang worked at an electronics factory in Guangzhou for nearly a year and came back home in 2008 to repair their home after the mud house was damaged by the magnitude-8 earthquake in Wenchuan, neighboring Sichuan province.
Following the earthquake, he built a new one-story brick house for his parents with the 20,000 yuan subsidy provided by the county government and 30,000 yuan interest-free loans provided by a local bank.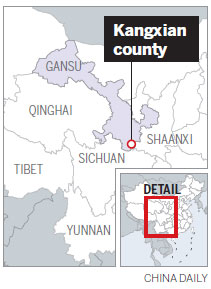 "After the house was erected I had no extra money to decorate the house, and the floor remained uncovered cement until last year," he said.
After the house was built, Yang had to leave the village to make money to pay back the loans. This time, he went to Lanzhou and worked as a cook for a restaurant for seven years. His salary increased gradually from 800 yuan to more than 4,000 yuan a month during the period, he said.
In 2015, he came back to Huaqiao village, where he worked as a cook for a friend he got to know in Shanghai, who opened a hotel in the village. At that time the village was under construction, as the local government was determined to transform it into a tourist site to help locals get out of poverty.
By last year, Yang finally had enough money to add another floor to his home and turn it into a restaurant for tourists.
"I hope my business stays busy so I can remain in my village," he said. "In this way I can also better look after my aging parents and my 5-year-old son."