Hangzhou bicycles get electric upgrade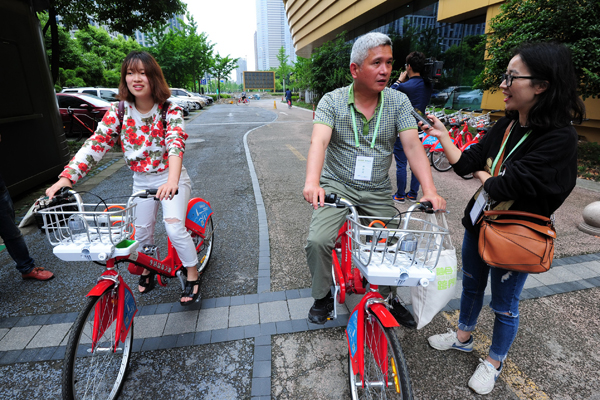 Riders test newly designed rental bicycles that use electrical power to supplement human pedaling, in Hangzhou, Zhejiang province, on Tuesday. Su Bin / For China Daily
Hangzhou, Zhejiang province, is planning to upgrade its public rental bicycles from strictly pedal power to electric hybrids.
The first batch of 5,000 hybrid bikes will be rolled out in three months, offering a faster option for bike riders, said Wu Guoxiong, deputy manager of Hangzhou Public Bicycle Traffic Service Development Co.
Hangzhou has 85,800 bikes for public rental, including 56,300 from Wu's company.
"We plan to replace all our regular bikes with smart bicycles by the end of next year," he said.
Traditional bikes have limitations, he said. "According to our data, people will ride 33 minutes for about 3 kilometers, on average, for each use. They will feel uncomfortable or tired when the time or distance exceeds that."
The new bikes will give people another choice. By inserting a portable battery, the human powered bicycle easily converts to electricity, so riders can extend their riding distance to 10 km and raise the maximum speed to 15 kilometers per hour, he said.
The State-owned company came up its plan for a bi-functional bicycle two years ago to meet the needs of residents whose jobs are 7 to 8 km from home. The plan and model were discussed and revised many times until it was agreed that the new shared bikes would have a removable battery.
People can choose to either rent a bicycle, or rent a bike and a portable battery as a package. The battery port is beneath the bike's front basket, along with an LED headlight, integrated power supply and control module.
The bike gets an electrical assist from a drive mechanism designed as part of the rear wheel hub - which is designed in the shape of an osmanthus, Hangzhou's city flower.
Thousands of photovoltaic power stations will be built and connected to the public bicycle stations, providing continuous energy to charge the batteries.
Bike rentals will follow the previous standard - no charge for the first hour, 1 yuan ($0.15) per hour for the next two hours, and 3 yuan per hour for time over that. Battery rental is 1 yuan for half an hour.
People will be able to rent a battery from a cabinet installed nearby, and the cabinet works as the battery charging station. Each cabinet can hold 24 batteries. As a bonus, the battery can be used to charge a cellphone, too.
The company has applied for patents on the innovative technology for the hybrid power bicycle.
"It is not about competition. We are in the public welfare business. This innovation could increase residents' efficiency, saving them time," Wu said.
"The charge for portable batteries may even out the rising manpower cost."
Wu Lei, a 33-year-old salesman in Hangzhou, told China Daily, "It is good news for me. I will definitely choose the smart bicycle."
Wu works about 12 km from his home. Currently, he usually drives to work. But parking and traffic jams are a headache.
"It will save me time and money," he said.
Hangzhou was one of the first to create a public bicycle transportation service in China. It has had bike rentals since 2008.
shixf@chinadaily.com.cn