Relief efforts top rural leader's priorities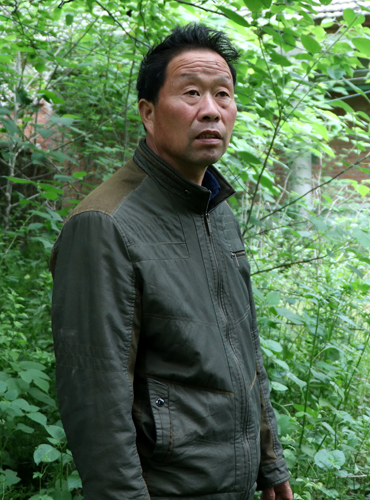 Li Zongyin, Party chief of Guhe village.
Li Zongyin, the 57-year-old Party chief of Guhe village in Anhui province, prepared cured pork and steamed buns, asking his wife, "Do you want anything else?"
His wife, Wu Yunlan, was diagnosed with leukemia about two months ago and has been receiving treatment in Suzhou, Jiangsu province, for more than a month.
To save money, Wu has been living in Wuxi, where her youngest daughter works. During Wu's time in Suzhou and Wuxi, Li has been able to spend just four days looking after her.
Li's eldest daughter has being staying with her mother to take care of her, while leaving her two children in Li's care. "My wife persuaded me to stay in Guhe to take care of our grandchildren and the village, as there are now many businesses and poverty relief programs in the village," Li said.
A 400,000-square-meter photovoltaic generator will be put into operation in the village by end of this month, and Li is required to represent the villagers in negotiations with construction workers to protect agricultural land from being damaged.
"There are a lot of poverty relief policies to aid villagers, such as getting up to 30,000 yuan ($4,360) in funding to demolish an old house in critical conditions and build a new house, or being given 5,000 yuan after buying six ewes to help them breed their own," he said. "But they don't always understand the policies, so they require help from village cadres."
After Wu fell sick, Li realized he was not able to take care of the village and his family.
This month, his son-in-law, who is married to his youngest daughter, went to Wuxi to visit Wu. Busy with business dealings in the village, all Li could do to help was prepare some food to make his wife feel less homesick.
He has been working as a village official for nearly 30 years, and has been Party chief of Guhe for more than 20 years.
He attempted to quit his job three times in the past two years as he is aging and said the work makes him feel tired, but each time the Party chief of Lyuzhai township, which governs the village, has persuaded him to remain in his position.
With a population of 5,086, Guhe is one of the four key villages for poverty relief efforts in Lyuzhai. Village cadres are not classed as civil servants in the country's political system, with township governments being the lowest level of government.
However, administration of rural areas relies heavily on village cadres, especially the Party chief, who is elected by Communist Party of China members and is often the most reputable person among the villagers.
"There are few other village cadres in Lyuzhai who have remained in their position for so many years," said Li, who receives a monthly salary of 1,200 yuan from the township government.
"I owe nothing to the villagers or the government, but everything to my wife," he added.