Micro schools aim to make a major impact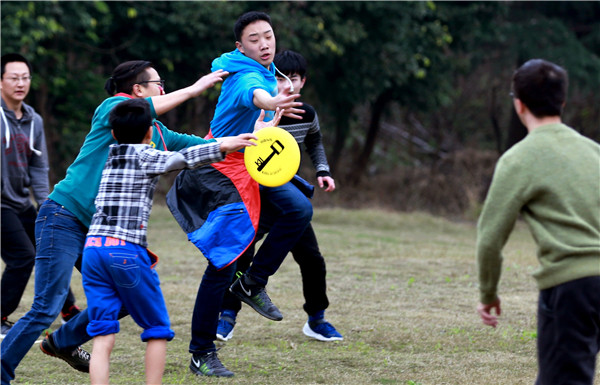 Students play with a frisbee at the Curionesty School in Chengdu, Sichuan province.[Photo by Zhang Shiwen For China Daily]
Many well-off parents are now sending their children to non-State establishments that foster creativity. Liu Wei reports for Xinhua.
When Zhang Xiaodai was an A-grade student at a junior high school in Chengdu, in the southwestern province of Sichuan, she found her studies dull. She wondered why her PE teacher was often sick but her math teacher was not, which meant almost every PE class was replaced by math.
"School was no fun at all. My life was crammed with endless memorization, drills and tests," the 14-year-old student said.
The only relief came in the form of weekend and vacation fun programs run by Chi Xiao, an independent education professional. At one egg-themed summer camp, Zhang visited chicken coops, made pancakes and wrote poems about eggs.
Zhang loved this method of learning so much that she became the first student at the Curionesty School, which Chi opened last year. "The students and teachers are like friends," she said.
In just six months, nine students enrolled at the single-classroom school, half of them from cities around China.
Learning through play
Chi recalled that as a college student he sympathized with middle school students who were burdened with endless homework and tests.
He was not a good student by traditional standards; he spent his time in high school writing poetry, talking about love and playing video games.
"People are biased against playing. But children learn about the world by playing. Through playing video games, I learned to respond quickly and think logically," said Chi, a critic of standardized test-oriented education.
His own educational philosophy - that study should be fun and meaningful - is given full reign in his "micro school". Curionesty has no fixed teaching philosophy or curriculum, because every teacher has a specialty and they see themselves as facilitators, not lecturers.
"We aim to cultivate students, ages 12 to 18, to become lifelong learners, not experts on tests," Chi said.