Making a sacrifice for a better future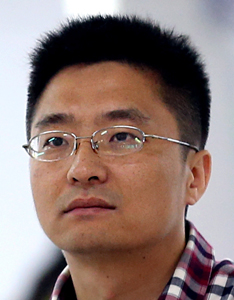 Wu Jie is working hard to establish himself in Beijing
After graduating from Beijing Jiaotong University in 2008, the native of Yinchuan, in the Ningxia Hui autonomous region, left college and moved into an apartment his parents bought near the West Fourth Ring Road.
Having majored in transportation management - the best major at his university - Wu found a job with the Beijing MTR, which operates the capital's subway system.
For the past nine years, Wu, 31, has spent two hours every day commuting from his home to his office near the West Second Ring Road.
Last year, he participated in the preliminary research and design of a new subway line in Fangshan district. When it comes into operation, the project, which has investment of more than 9 billion yuan ($1.3 billion), will become China's first fully automated subway line, and all the equipment and technology will be made in China.
"I'm very interested in the project because it will have great significance for the development of the urban rail system. If I had missed the opportunity to be part of it, it would have been be a huge blow to my career," he said.
However, he knew that if he participated, his commute would be greatly extended because the project is far from his home.
Despite opposition from his mother, he decided to join the team. So, since February he has joined other long-distance commuters, spending around five hours a day on the road making an 80-kilometer round trip.
He now gets up far earlier than before, walking to the subway station near his home and spending about 75 minutes on the subway, changing lines three times, and then walking for about 30 minutes to reach his office.
"Sometimes, I take a bus or ride a shared bike from the subway to save time," he said.
Test runs are expected to start by the end of the year. They will be followed by the line going into commercial operation, which will see Wu continue his long commute for another three to five years.
"The reason my mother isn't very supportive is that my wife is five months pregnant. My mother thinks I should spend more time with my wife, taking care of her instead of spending time commuting. Luckily, my wife supports my decision, and I believe the work I'm doing will be worth all the effort," he said.