Chinese student delivers message of peace to world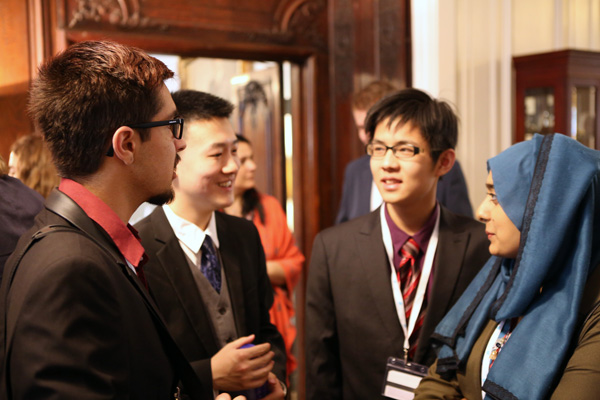 Gu Yunxiang (second left), who represented the Chinese mainland at the grand final of the International Public Speaking Competition, interacts with his fellow competitors in London on May 11, 2017. [Photo by KEVIN WANG/CHINA DAILY]
Young Chinese speech competitor Gu Yunxiang wowed the audience with a powerful speech at the grand final of the International Public Speaking Competition in London on Friday.
Gu, 18, a winner of the 21st Century Cup National English Speaking Competition organized by China Daily, represented the Chinese mainland in the competition.
He spoke about his understanding of peace, based on a personal story of how he and his friends addressed inequality on campus.
"We must make sure that love, care and good will prevail in every aspect of life. We must all work hard to achieve peace in our heart, among people and in society," said Gu, a first year student at Nanjing University.
The story Gu told is his personal interpretation of this year's grand final competition theme, "peace is not an absence of war".
The International Public Speaking Competition is organized by the English-Speaking Union. This year's competition was attended by around 50 participants from more than 40 countries and regions.
Judges placed Gu in the top seven of the finalists but he lost out to Luke Macaronas from Australia, the winner, and Owen Torrey from Canada, the runner-up.
The China leg of the competition, the "21st Century Cup", was started in 1996 by China Daily. Liu Xin and Xia Peng, China's national champions in 1996 and 2005 respectively, also won the international competition. This year's 21st Century Cup in the Chinese mainland attracted around 600,000 students from secondary school and 100,000 from university.
"Gu gave a brilliant performance today not least because it clearly came from his own heart and his own experience," said Lord Paul Boateng, chairman of the English-Speaking Union.
"He talked about the importance of building peace through relationships, through doing the right thing, and our individual responsibility to do that. So he was a powerful contestant," Boateng said.
"He was an example of the way in which the 21st Century competition is really upping the game, improving the quality of public speaking in China. And the support of schools, the government, the media organizations like China Daily are absolutely crucial, but this young man deserves every success not just in this competition but going forward," he said.