Thai student eyes grain gains
Three months from graduation, Nontipa Kla-ngam sees a golden opportunity as she wraps up her master's thesis on a free-trade agreement between Thailand and China. "We are very proud of our rice and I wish more Chinese could try it," Nontipa said.
Agricultural products have been exempted from customs duty, but most Thai rice sold in China's supermarkets is imported through regular channels, without taking advantage of the FTA, Nontipa added. This means at least a 20-percent price differential, which leaves great market potential, she said.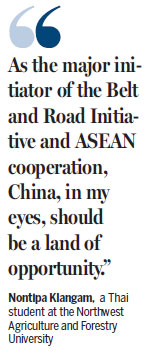 Nontipa was born on the island of Phuket and began learning Chinese at high school in Bangkok. In 2014, she decided to further her studies at the Northwest Agriculture and Forestry University in Yangling, Shaanxi province. "As the major initiator of the Belt and Road Initiative and ASEAN cooperation, China, in my eyes, should be a land of opportunity. That's why I came to study here," she said.

Today's Top News
Editor's picks
Most Viewed