Italy rolls out red carpet for Chinese tourists
Mandarin signs are being added at airports and railway stations in Italy, and free Wi-Fi services are being set up at public venues to make Chinese tourists' visits to the country easier and happier, a senior Italian official said.
The Italian government is also encouraging hotels to provide more Chinese-friendly services in preparation for the 2018 European Union-China Tourism Year, Dorina Bianchi, the vice-minister of cultural heritage activities and tourism, said during an interview in Shanghai.
"Such services will include hotel staff who are fluent in Chinese, rooms with China Central TV channels, acceptance of China UnionPay cards and hot drinking water to cater to Chinese stomachs," she said.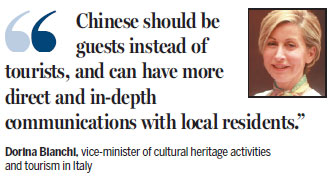 China has become the seventh-largest source of tourists for Italy after years of continuous leaps since a wave of outbound travel to Italy began in 2004, Bianchi said.
Statistics from the Italian consulate general in Guangzhou show that Italy welcomed a record 900,000 visitors from the Chinese mainland last year, and the numbers have maintained double-digit annual growth for the past decade.
"Longer stays are being considered for Chinese with tourist visas, and now we guarantee that our visa application process will be completed within 36 hours for Chinese tourists," Bianchi said.
A direct flight linking Nanjing, Jiangsu province, with Milan, Italy, began operating on May 4, she said, and direct services to Rome and Milan are available from Beijing, Guangzhou, Shanghai, Chongqing and Wuhan.
She said visa offices in 11 Chinese cities, including Chengdu, Kunming, Xi'an and Shenyang, were opened a year ago to facilitate services for tourists.
"The number of visa applications from Chinese people has been increasing by 20 percent a year for the past three years," she said.
They hope Chinese tourists will go farther - to the Italian villages, rather than sticking to the big cities.
"Chinese should be guests instead of tourists, and can have more direct and in-depth communications with local residents," she said. "We're also promoting slow tours, such as a bicycle ride in a beautiful national park to enjoy the scenery and food in a leisurely way."
The tourism promotion department of southern Italy's Calabria region signed an agreement with China Tourism Academy on Wednesday in Shanghai to endorse the Welcome Chinese Certification established by the academy as the official certification signifying a high standard of service for Chinese tourists.
"All of the 400 hotels and resorts, as well as train stations and airports in the region must meet the criteria of the certification, including offering room service in Chinese, serving Chinese breakfasts and taking Chinese credit cards, by the end of this year," said Angela Vatrano, head of the department.