High hopes for happy end to vulture's journey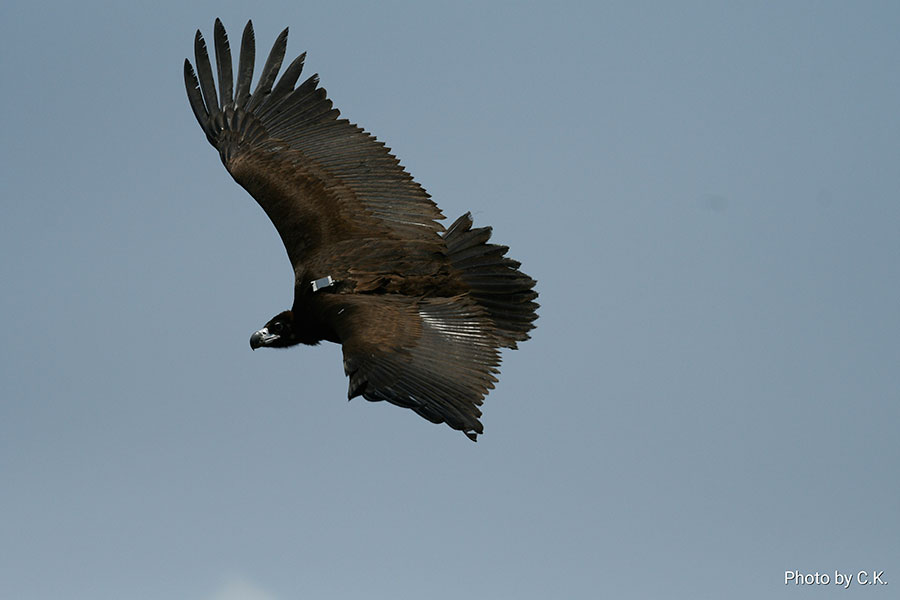 Cinereous vulture Skywalker returns to the wild with a satellite tracking device attached to its back in Chiangmai, Thailand. [Photo provided to China Daily]
Kasorndorkbua thought Anakin's mission would never be completed, until he found another cinereous vulture, a rare winter visitor in Thailand, in January. The vulture was found exhausted and handed over to the rehab unit on Jan 15. Initial checks showed the vulture was in good general health. This bird, which Kasorndorkbua simply named Skywalker, was released into the wild last month.
Kasorndorkbua said he hopes this vulture has better luck than Anakin, so it can complete the unfinished mission of carrying a satellite tracking device to shed light on the species' migratory habits.
Since being released, the vulture has passed through Myanmar, and entered China via the Xishuangbanna Dai autonomous prefecture in southern Yunnan province, flying eastward to Wenshan, a border prefecture between China and Vietnam. It is currently in Guangxi.
"Being so big, the vulture's flight direction mainly depends on strong winds. Its eastward movement is slightly unexpected, but understandable due to local wind directions," Kasorndorkbua said. "I hope Skywalker gets assisted by winds from the east or south to direct him west, where his suspected breeding grounds lie, either in Mongolia or the Xinjiang Uygur autonomous region."
The vulture faces threats such as being shot when it comes down to feed on animal carcasses, which are usually situated close to human settlements, Kasorndorkbua said, adding that wind directions will play a major role in his journey toward breeding sites.
"I hope he makes it to his natal site where there is plenty of food and other vultures," he said.
Jennifer Leung, a Hong Kong bird-watcher who lives in Shanghai, is helping Kasorndorkbua to publicize the project and distribute information on the bird's whereabouts among Chinese bird-watchers.
"I strongly believe in the importance of studying avian migration, because these birds travel long distances and are subjected to many climate changes, so they can help to educate us about the environment," Leung said. "My utmost concern is Skywalker's safety during his migration. The journey is full of risk and uncertainty, not to mention threats posed by humans. I hope Skywalker returns to his breeding ground unharmed."
Leung said they expect to receive updates of the vulture's progress from Chinese bird-watchers.