High hopes for happy end to vulture's journey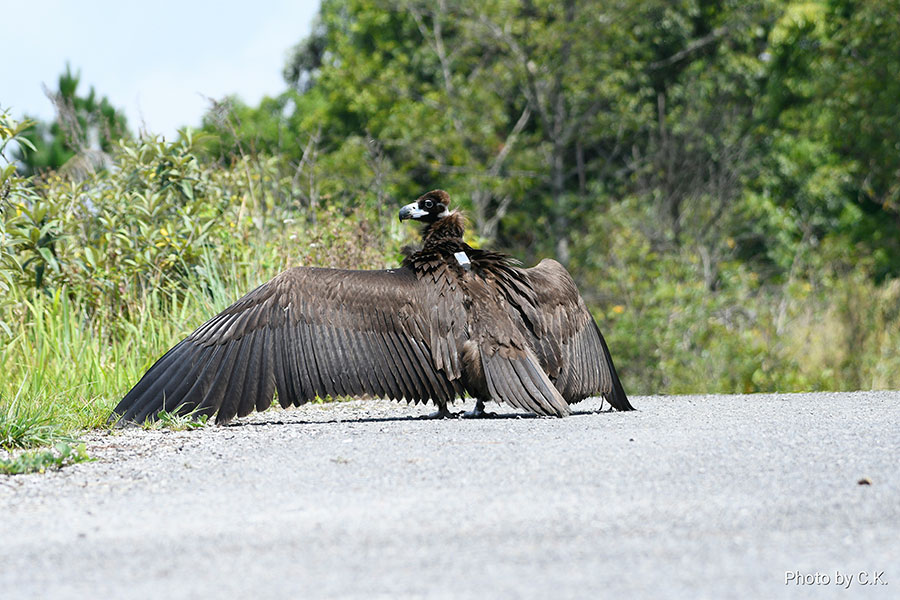 Cinereous vulture Skywalker returns to the wild with a satellite tracking device attached to its back in Chiangmai, Thailand. [Photo provided to China Daily]
The migration of a raptor named Skywalker is being closely followed by bird-watchers via a satellite tracking device on its back
The name Skywalker has been reappearing in reports across China. However, this time it has nothing to do with the main protagonist of the Star Wars movies. Instead, it is soaring in Chinese airspace.
This Skywalker is a cinereous vulture, a large bird of prey found across much of Eurasia. With a wingspan of up to 3 meters, the bird is the largest raptor species found in Asia.
With a satellite tracking device on its back, the young male raptor named Skywalker-or Sky for short-was released by a Thai conservationist in Chiangmai, northern Thailand, on April 29. Data as of May 4 showed that after six days of flying, the raptor had traveled more than 1,000 kilometers, reaching the Guangxi Zhuang autonomous region.
"It's exciting news for us," said Chaiyan Kasorndorkbua, an associate professor at Kasetsart University in Bangkok. He said the data sheds new light on a project that started with tragedy 10 years ago.
In 2007, a cinereous vulture was found injured in eastern Thailand by a British bird-watcher. Some experts suggested the bird be taken to veterinary pathologist Kasorndorkbua-a known raptorphile-for help.
The vulture was rescued and later became healthy enough to be released into the wild by Kasorndorkbua and his colleagues. Kasorndorkbua named the male vulture Anakin Skywalker.
Considering the vulnerable status of vultures worldwide and given that little is known about the migratory habits of the bird in the region, Kasorndorkbua raised sufficient funds to purchase and attach a satellite tracking device on Anakin before releasing him, to collect data about the vulture's migration route for scientific study.
However, the fairy tale of Anakin didn't have a Disney-style ending-he was found shot dead in Myanmar less than a month after his release in May 2007. The news was deeply upsetting for Kasorndorkbua.
"Anakin was the first raptor I rescued. He was like my son, as I took care of him for several months. It was such a joy to watch him grow stronger day by day. It gives people strength and hope to fight for a worthy cause," Kasorndorkbua said.
Soon after, he decided to put the remaining funds he had raised to good use, setting up a raptor rehabilitation unit at Kasetsart University for injured raptors. Since the unit's establishment, more than 500 raptors have been rescued, and half of those have been released back into the wild.