Rain abates, but more is forecast
The heavy rains that battered Guangdong province and the Guangxi Zhuang autonomous region over the weekend waned on Monday, but the cleanup is still in progress.
According to the State Flood Control and Drought Relief Headquarters, the cities of Guangzhou and Yulin were among the worst hit on Sunday. Several cities in Guangdong reported flooding.
A total of 7,061 residents in the low-lying areas in Guangzhou and Heyuan were evacuated, more than 400 houses collapsed and 3,392 hectares of farmland was flooded. In Yulin, Guangxi, 8,600 people were affected.
No deaths or missing cases were reported, the headquarters said on Monday, adding it is still calculating the losses.
In Guangzhou, which issued its first red alert of the year for flooding on Sunday, the Zengcheng, Huadu, Panyu and Huangpu districts were hardest hit by the heavy downpours.
In Panyu district's Daluotang area, a major jewelry production base, many jewelry stores and factories were flooded. More than 300 jewel production facilities in the area are responsible for about 70 percent of the precious stones in the Hong Kong market.
A jewelry store head surnamed Huang said he found counters floating in water after his store was flooded. How much merchandise was washed away is still being calculated.
Hundreds of luxury cars owned by jewelry business heads were also flooded, leaving a trail of widespread economic losses, Huang said.
In Huadu district, farms and fishing ponds were flooded, while in Zengcheng's Zhongxin township, rain caused landslides, forcing the evacuation of more than 2,000 villagers.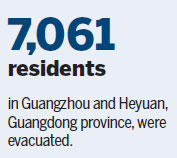 Many highways, streets and farms in Zhongxin were flooded. Water also engulfed many houses and vehicles.
Chen Jianfu, a teacher in Guangzhou's Baiyun district, said he was soaked when he went out to visit a meat and vegetable bazaar, although he had brought an umbrella.
"The rainstorm was heavier than I can remember for many years," Chen said.
Xiang Liyuan, 32, who was driving her 6-year-old daughter to a class from suburban Xintang township to downtown Guangzhou on Sunday, said the highway had been flooded.
"Many cars in front of me, where the highway is a bit lower, had been swamped and traffic was brought to a standstill," said Xiang, who had to phone the teacher to ask for leave and wait for help.
She said she really did not know what to do other than call for help when her car stalled in the heavy downpour in Zengcheng district on Sunday.
Meteorologists are forecasting more rain for the rest of this week in southern China. The State Flood Control and Drought Relief Headquarters has sent three working groups to Guangdong and Guangxi to help guide storm-ravaged areas to restore production.
Cities in Guangdong and Guangxi were asked to prepare for even heavier possible flooding in the months to come, as southern China has entered its annual flood season.
Hou Liqiang contributed to this story.