Denmark invites Chinese on 'oyster safaris'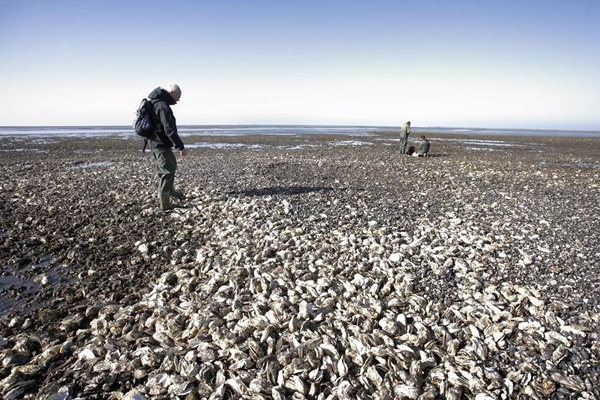 Oysters wreak havoc on Denmark's seashore. [Photo/Royal Danish Embassy in China]
The Danish minister for environment and food says the Nordic country will consider exporting oysters to China, after the species spread become a hot topic in China.
The Danish government is mapping how many invasive oysters there are, and how they affect the country's environment and fishery stocks, said Esben Lunde Larsen on Friday. He is on a delegation to China along with Danish Prime Minister Lars Loekke Rasmussen.
When the mapping is completed, the country will be able to pursue the issue on a solid foundation, he said.
Larsen made the comments after a post on social networking site Weibo about the invasion of an exotic oyster, known as the Pacific oyster, generated a flurry of enthusiastic responses from Chinese people.
The Danish Embassy had posted the article on April 24 to raise awareness about the threat the species posed to the country's environment and fisheries.
The embassy made a small joke in the story inviting Chinese people to eat oysters in Denmark, but was not expecting such a strong reaction from readers. One person even proposed to "eat the species to extinction."
However, oysters are not on the list of aquatic products being exported from Denmark to China at the moment.
Larsen added that the food ministry and industry of Denmark would work closely on the potential of exporting oysters to China, but the two countries had not yet signed any oyster agreement.
He also said Chinese tourists were "welcome to come to Denmark on oyster safaris".
Related: Chinese bombard Denmark with oyster crisis solutions